Collections
Our Cambridge Collection has changing exhibitions about Cambridge.  Much of our collection is in storage to ensure its preservation for future generations.
Worthy of an Ode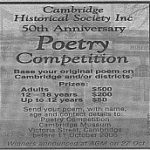 In October of 2006, the Cambridge Historical Society celebrated its 50th Anniversary and a poetry competition was held as part of the celebrations. Entrants' original poems were to be based on the subject of Cambridge and/or the surrounding districts and we present here the prize winners of each section together with some of the highly commended entries.
by Graeme Moyle – Highly Commended in the Adult Section
Cambridge …
Your men have served you gallantly
From Suvla to the Somme
They fought for King and Country
Now all of them have gone.
They left what's now
The 'Town of Trees'
To the Kaizer's merry dance
And lie amongst the poppies
In Gallipolli and France.
Farewelled at the fountain
The town came to say goodbye
Patriots with Union Jacks
Stiff lips and full of pride
Not knowing if you would return
Not knowing if you'd die.
They won't be back
They won't be back
No more they'll tread this road
William Willis, Christie Boyce
Cut down at Anzac Cove.
They won't be back
They won't be back
I guess it was their time
Charles Hally
Aged just twenty-five
Remembered at Lone Pine.
Trevor Beer in Italy
Archie Shaw, the River Plate
Eric Anderson, Ernest Keyte
All sharing the same fate.
In Asia
And in Africa
In Europe you all sleep
Your Mothers back in Cambridge
Clutch their telegrams and weep
And though you're half a world away
In fields of poppy red
Your names will live forever here
Though a century you've been dead.
Memorial Gates
Scribed with your names
Remind us of our debt
A marble Cenotaph as well
Where many mothers wept
And every year in April
As the lonesome bugler plays
The town you left remembers you
Gives thanks
And sends you praise.