Collections
Our Cambridge Collection has changing exhibitions about Cambridge.  Much of our collection is in storage to ensure its preservation for future generations.
Brewery (Empire Street)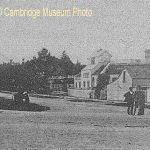 The brewery in Brewery (now Empire) Street provided a service to the district for many years producing vats of pure amber beer and cordial. In the 1940s it was suggested as an air raid shelter for Cambridge but it was found to be good only as storage and perhaps a mortuary. It was in a bad state of repair with rotten timber, borer and rusting iron.
Hallys' Brewery was built by the Hally brothers in the 1870s and under their ownership was conducted as a brewery and cordial factory. After a number of years the business was sold to Mr Edward Cussens then later sold back to the Hally Brothers and run only as a cordial factory. Another change of ownership was made and Mr Hector Amos continued to make cordials until it was finally closed down prior to World War One.
The stones used in building the two-foot thick walls came from the river below the Fergusson Bridge. This section of land had been allocated to Sergeant Charles Chitty of the 3rd Waikato Militia and to his chagrin was found to be almost devoid of soil – only a thin layer covering solid rock.
At the time that the construction of the brewery was being considered arrangements were made with Sergeant Chitty to take the rock from his section.
Stories were told of occurrences incidental to the process of brewing: of a wild Irishman who elected to bathe in one of the vats and was discovered by an irate manager 'in liquor' in every sense of the term; of bumble bees deceived by a similarity of colour becoming well and truly 'primed'; and of the brewery pigs showing all the manifestations of having had 'one over the eight'.