Collections
Our Cambridge Collection has changing exhibitions about Cambridge.  Much of our collection is in storage to ensure its preservation for future generations.
Loyal Duke of Cambridge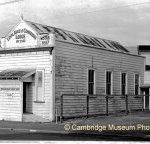 The Loyal Duke of Cambridge Lodge opened its doors in Cambridge in April 1867.
Fifteen members joined up on 28th May 1867 at a meeting in the Duke of Cambridge Hotel with William Henry Burbridge being the first Noble Grand. Andrew Robinson, the publican, became their first Honorary Member. By the end of the year they had 32 members who paid 1 shilling and 6 pence every four months into the Sickness and Funeral Fund. But there were only ten deaths up to 1900 and sickness was not that prevalent. The first case was of dysentery in 1872 for which 18 shillings was paid over seven days. The first death was Mary, the wife of William Morshead in October 1881, for which £12 was paid for the funeral. W W Jones was the first surgeon.
In September 1873 the Lodge paid their last rent account to the Duke of Cambridge Hotel and started paying interest on a £100 loan. Their new building was built in Duke Street and after a further three moves William White and his son built another hall for the Lodge in Empire Street.
The social aspect, for a predominantly single membership, must have been a draw card.
Ladies were admitted to the Lodge in 1926 with Nellie Hall being the first to be initiated. She was also in 1929, the first female Noble Grand.
The Lodge held its Centennial Celebration in 1967 and closed shortly after.
The Cambridge Museum has Minute books from 1873 to 1967, and the alphabetical list below is from the Sickness and Funeral Fund up to 1879. It gives name, age when enrolled, date of enrolment, whether single or married, wife's name and the date wife was added to the register.
A B C D E F G H I J K L M N O P Q R S T U V W X Y Z
A
John Adie – 31, Farmer, 4 December 1870, single
Henry Allen – 24, Farmer, 27 June 1870, single
James Anderson – 23, Constable, 13 May 1871, single
Frederick James Ansell – 25, Carpenter, 16 May 1874
Henry Asher – 23, Clothier, June 1875
---
B
William Bell – 20, Carter, 19 August 1879, single
Hugo Max Bucholz – 21, Merchant, 12 August 1867, single
Wm Henry Burbridge – 32, Bushman, 28 May 1867, single
John Butler – 28, Settler, June 1868, single
---
C
James Verner Campbell – 27, Sawyer, 21 March 1874, married
Horatio Fred Knight Chitham – 25, Farmer, 1 July 1867, single
Charles Chitty – 29, Constable, 21 March 1874, single
G S Chalmers – 25, Labourer, 14 September 1872, single
William Clements – 25, Hotel Keeper, 1 July 1867, single
Jabez Cloake – 22, Farm Labourer, 29 April 1871, single
Charles Collins – 23, 1870, single
Henry Collins – 28, Labourer, 22 February 1873, single
James Collins – 22, Baker, 24 January 1874, married Mary
Wm Godfrey Collins – 27, Settler, 28 May 1867, married Julia
Peter M Crawford – 21, Constable, 13 June 1870, single
Charles Crouch – 27, Farmer, 15 April 1876, married Emma
William Cunningham – 38, surgeon, December 1871, single
---
D
Edwin Davy – 24, Constable, 21 August 1875, single
George E McE DeLaney – 27, Constable, 25 April 1876, single
Joseph John Dillon – 22, Butcher, 17 June 1867, single
James Draper – 21, Constable, June 1875
---
E
Benjamin Frederick James Edwards – 30, Native Interpreter, 11 July 1874, married
---
F
Alfred E Farr – 26, Carpenter, 28 May 1867, single / married Frances Isabella, 1867
Cuthbert John Haugh Featherstone – 25, Settler, 15 July 1867, single
John Finnis – 28, Cook, 5 August 1871, single
William Fogarty – 21, Brewer, 30 September 1879, single
David Forsyth – 19, Labourer, 5 August 1876, single
---
G
Joseph Garbett – 31, Constable, 8 July 1871, single
Luke Gegan – 28, Butcher, 15 July 1867, married
John Alfred Goodwin – 22, Labourer, 15 July 1867, single
John McLeod Greaves – 30, Farmer, 12 November 1878, single
---
H
John Hall – 18, Farmer, 16 September 1879, single
John Harding – 18, Settler, 11 June 1869, single
William Gibbons Harp – 21, Carpenter, 24 January 1874, married Mary Anne
George Hastie – 19, Labourer, 16 October 1875
Drummond Hay – 41, Civil Engineer, 23 September 1867, Honorary Member
Benjamin Heaslip – 29, Farmer, 28 May 1867, married Sarah
Thomas Wright Hector – 28, Chemist, 10 June 1876, married Elizabeth
James Hesketh – 32, Labourer, 28 May 1867, single
Samuel Hewitt – 24, Baker, 30 October 1875
David William Hogan – 23, A C Force, 7 August 1874, single
Thomas H Hoy – 19, Butcher, 19 December 1876, single
George Hughes – 31, Carpenter, 28 May 1867, single
Emanuel Hutchings – 24, Farmer, 15 April 1879, single
---
J
J C Johnson – 24, Sawyer, 21 August 1875
S D Johnston – 19, Labourer, 10 June 1876 , single
Walter William Jones – 30, Surgeon, 28 May 1867 , single
---
K
Thomas Kerhean – 19, Shoemaker, 28 May 1867, single
Henry Kerr – 23, Coachman, 28 October 1879, married
R J Kerr – 30, Carpenter, 14 October 1879, married
William Henry King – 24, Constable, 3 May 1873, single
Robert Kirkwood – 26, Hotel Keeper, 18 November 1867, single
---
L
Joseph Richard Lamb – 20, Carpenter, 12 August 1867, single
Edward Douglas Landells – 26, Sailor, June 1868, single
James Laney – 34, Labourer, 14 May 1870, single
Fred James Laurence – 25, Settler, 29 July 1867, married Georgina, 1 August 1867
Thomas Lees – 19, Constable, 1 April 1876, single
John LeSeuer – 24, Sail Maker, 12 August 1867
? Leslie – 31, 3 February 1872, single
Walter Luckman – 35, Farmer, 7 August 1875, single
---
M
Allan Noble Maguire – 33, Farmer, 28 May 1867, married Bessie, June 1867
George Mann – 27, Settler, 14 May 1870, married Elizabeth
William Marshall – 24, Labourer, 8 June 1872
William McDowall Marshall – 20, Baker, 21 October 1867, single
Isaac Matson – 26, Farmer, 24 July 1875, single
William E Maxwell – 18, Cabinet Maker, 1 July 1879, single
John Medhurst – 18, 30 September 1879, single
Malcolm Miller – 31, Labourer, 4 April 1874, single
William Moisley – 32, Shoe maker, 4 October 1873. Joined by Clearance
Charles Edwin Molesworth – 21, Constable, 7 August 1875, single
Joseph Molloy – 31, Tailor, 28 May 1867, married Mary, June 1867
John Mullins – 24, Constable, 26 October 1872, single
---
Mc
Robert McBride – 29, Constable, 23 January 1875
George McCann – 31, Farmer, 28 May 1867, married Ellen, June 1867
Peter McKearney – 21, Labourer, 22 June 1872, single
William McKearney – 21, Labourer, 16 March 1872, single
James McNeish – 21, Billiard Marker, 22 March 1877, single
Alexander McRell – 24, Chemist, June 1875, married
---
N
Henry Norgrove – 26, Butcher, 5 August 1879 , married Mary Ann
---
O
J W Olding – 33, Constable, 26 October 1872, single
Frank William O'Neil – 21, Farmer, 24 June 1871, married Anne
William Henry O'Neil – 23, A C Force, 5 September 1874, single
Pat J O'Toole – Constable, 31 October 1874, from the Loyal Egmont Lodge
---
P
J Henry Palmer – 31, Coachman, 22 February 1872, single
Reuben Parr – 25, Farmer, 26 November 1870, married Maria, December 1870
Hugh Matthew Dunlop Pearson – Host, 8 July 1871, Honorary Member
Walter William Pitcher – 25, Coachman, 26 December 1874, married
William George Poole – 31, 28 May 1870, single
---
Q
Edwin G V Quick – 27, Labourer, 28 May 1867 , married Anne, June 1867
---
R
Frederick Raynor – 23, Constable, 29 April 1876, single
William Andrew Richardson – Commission Agent, 19 August 1879, Honorary Member
William Richdale – 19, Settler, December 1871, single / 9 October 1877, single
W J Rist – 26, Constable, 8 January 1876, from Loyal Hamilton Lodge, married Harriet
Andrew Robinson – 34, Hotel Keeper, 28 May 1867, married Agnes Theresa, June 1867, Honorary Member
James Robinson – 25, Miner, 13 June 1870, single
Charles Edward Stuart Rose – 35, Publican, 10 June 1876, married Elizabeth
George Ross – 21, Blacksmith, June 8 1872, single
John Ryan – 18, Brewer, 2 September 1879, single
---
S
Henry Salmon – 21, Constable, 16 September 1871, single
Seth Sam – 34, Surgeon, 15 July 1867, married Elizabeth, September 1867
Sam Charles Schofield – 23, Ironmonger, 15 July 1867, married Agnes D, September 1867
John Sharp – Nursery gardener, 17 October 1874, Honorary Member
John Shea – 22, Labourer, 2 September 1879, single
Daniel Skelly – 21, Labourer, 6 July 1872, single
Henry Smith – 25, Coachman, 24 June 1871, single / married Anne, June 1871
Henry William Smith – 23, Pressman, 17 June 1867, single
Walter Smith – 19, Barman, 10 June 1876, single
George Smithers – 25, Labourer, 27 May 1876, married Mary
Joseph Spedding – 26, Clerk, 28 May 1867, single
A E M Spurdy – 23, Farmer, September 1868, single
Thomas Stanley – 24, Settler, June 1868, single
John Alexander Stuart – 30, Carpenter, 24 January 1874, married Mary Anne
---
T
William Taylor – 22, Carpenter, 30 January 1877, single
William Arthur Thomas – 20, Labourer, 19 December 1876
James Paton Thomson – 31, Carpenter, 28 May 1867, single
Edwin Tucker – 34, Farmer, 23 November 1872, single
---
W
Henry Walker – 24, Constable, 24 June 1871, single
Robert Ward – 30, Storekeeper, 29 July 1867, single
James Thomas Webb – 22, Constable, 13 May 1871, single
John Webb – 21, Constable, 16 September 1879, single
Thomas Webb – 20, Bushman, 23 December 1879, single
James Webber – 30, Blacksmith, 16 May 1874, married
David Wheatcroft – 32, Draper & Grocer, 28 May 1867, single
William White – 19, Labourer, 19 March 1876, single
William Wilson – 30, Clerk, 16 May 1874, single
Researched and written by Eris Parker
Ref: Cambridge Museum Archives