Collections
Our Cambridge Collection has changing exhibitions about Cambridge.  Much of our collection is in storage to ensure its preservation for future generations.
Coaching Days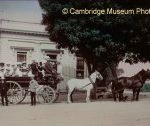 William Kennedy Carter had his stables on the block of land now occupied by Briscoes, bordered by Lake, Kirkwood and Brewery (Empire) Streets and the National Hotel.
He came from Halifax, Canada and started his New Zealand coaching days with Quick's Stables in Auckland.
In the book 'Some Old Waikato Days' by Rev John Golden 1922 it says, "Quick's Stables in Elliot Street were the rendezvous for passengers to the remote Waikato, and 6 a.m. was the hour for departure. W Carter was the skilled jehu [a coachman – especially one who drives fast or furiously] a tall and athletic American who handled his team with great dexterity".
From the 1870s 'King' Carter ran coach services to and from Auckland and at his Cambridge stables he also had many buggies, wagons, and about 100 saddle horses for hire.
'King' Carter used carrier pigeons for sending messages between his various stopping places and Cambridge. (He and his wife Mary Ann lived on the terrace of land above the Karapiro Creek known locally as Carters Flat after them.)
From Auckland to Hamilton there were nine changes of 6-horse teams and the trip took all day. Spades and shovels were always carried to dig the coach out of the mud if it got stuck during bad weather. Sitting in a coach for a day was a luxury compared to a week on horseback, with your luggage piled around you.
In the chilly morning air the coach would set off. The horses were tiring by the time they reached Otahuhu so a change was made and a fresh team sped on to Drury. A coach could take 25 passengers but on the clay track over the Razor-back (Bombay Hill) the men had to get down and walk. Even a 6-horse team could not pull a fully laden coach over this hill.
On the crest of the Razor-back another change of horses was made and on they sped to Mercer. New horses were again harnessed and off they went to Rangiriri – the half way house – with dinner waiting for the weary passengers. A new team headed off to Huntly, now on a flat but nevertheless swampy road. The stages were longer as the running became easier. Ngaruawahia was the next stop, then another half-way house about Horotiu. Night had fallen by the time the coach arrived in Hamilton.
One January morning in 1881 Mr Butler, a rival contractor and 'King' Carter both left Hamilton about 6 o'clock. Carter had six passengers and Butler two. A race was on. Carter kept up the lead until just coming into Cambridge when Butler passed and won by about 100 yards. The time taken was 1½ hours.
Carter kept the largest share of passengers and mail contracts until the railway arrived in 1884. He then extended his coach runs to Rotorua and Taupo.
Crowther & Bell bought out W K Carter in 1904 and they also ran regular coach services to and from Hamilton and up to Te Waikato Sanatorium at Maungakawa.
Crowther & Bell's brake (a large open cart) was a familiar sight around Cambridge. It was the pride of the firm – built by Atkins, an Auckland coachbuilder – spic and span in bright shining colours. If there was an event around the town (or around the Waikato) Crowther & Bell's brake would be leaving from the Cambridge Post Office and returning after the festivities were over. Drawn by four to six prancing horses it would carry people to the hunt, picnics, sports and dances. After 30 years of faithful work the poor old brake was towed – behind a car – and left at the polo grounds to end its days as a grandstand.
Before the opening of the railway to Rotorua, Henry Kerr was driver of a team of six horses and coach between Cambridge and the thermal area. At that time Cambridge was the major stopover for visitors from Auckland. Henry Kerr also drove the mail coach between Hamilton and Cambridge and later between Cambridge and Tirau. He drove the first coach between Tirau and Rotorua and was on the road at the time of the Tarawera eruption in 1886.
John Ferguson and Thomas Gemmill, coachbuilders and blacksmiths, were most important to the travelling and farming people. Their smithies were interesting places, with glowing forges and hammers on anvils giving out a mellow peal. In the workshop the hammer and chisel in the hands of craftsmen shaped the wheels and undercarriages, the bodies and seats of the hardy farm wagon or dainty two-seater carriage.
Gemmill's smithy had three forges running hot in its heyday and was finally demolished in 1957 – leaving only the one blacksmith at the Cambridge racecourse.