Collections
Our Cambridge Collection has changing exhibitions about Cambridge.  Much of our collection is in storage to ensure its preservation for future generations.
John Ferguson – Coach Builder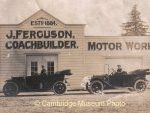 John Ferguson and Family
John Ferguson was born in Glasgow in 1846 and lost his father early in life. He learnt the trade of a carpenter and in 1864 came to New Zealand with his mother and family, settling at Pokeno. Later he went to Napier as a builder. Then he was for a time at Thames and subsequently went to California where he learned the trade of coach building. He returned to New Zealand in 1873 and was engaged in farming and house building at Hautapu in the Waikato. His business, as a coachbuilder in Lake Street, Cambridge, was started in a small shop in 1884 – two years before the railway reached Cambridge.
By 1905 this had extended to workshop, blacksmithing, carpentry, painting and show rooms, and they turned out vehicles from mountain wagons, farm and business carts to dainty easy-running sulkies. John also had a coal and wood yard, and was agent for Cousins & Atkins (coach builders) Auckland, McCormick harvesting machinery, Hancock's disc plough and the Standard Insurance Company.
At first the demand had been mainly for the homely dray and the all-purpose farm wagon but the advent of dairying brought about the need for the spring-cart, in which the milk used to be transported daily from each farm to the creamery. Ferguson's vehicles were known over a wide area, and many timber wagons were sent to the Mamaku, some with tyres six inches wide, for travelling over the mud tracks.
As the three eldest sons grew to manhood they took their places in different departments and the business became John Ferguson & Sons.
John was a member of the first Cambridge Borough Council in 1886, a Justice of the Peace, a member of the Domain Board (chairman for 26 years). He took a keen interest in bowls, the school, the Alpha Lodge and was a staunch Presbyterian. The business, carried on by his sons, continued in Cambridge for about 60 years. John died 3 March 1931 aged 86.
John had married Agnes Crickett (the daughter of Samuel and Mary, born in Dunfermlin about 1852) at Pokeno on 4 August 1873 and they lived at 'Kelvin' in Hamilton Road. Agnes arrived in NZ on the 'Helenslea', attended the Presbyterian church and died in 1933.
Their eldest son was Hugh, born at Hautapu on 14 January 1876. He was a keen member of the Waikato Mounted Rifles, prominent in the Masonic Lodge and also a member of the Cambridge Domain Board. He married Margaret Gardiner in 1907 and they had two daughters, Jean and Mary and one son, J Glassford Ferguson.
Hugh was apprenticed to Cousin & Atkins, coachbuilders of Auckland, then joined his father in charge of the painting department. He was a pioneer of the motoring set in Cambridge, owning a Vauxhall without a steering wheel. As milking machines became popular Hugh installed many throughout the district. He died 24 January 1954.
Another son was John Herbert (known as 'Bert') born 21 February 1878 who married Helen Menzies and joined the firm as a blacksmith. He died 30 October 1951 leaving five daughters and three sons. (Another son had been killed in World War II).
Their third son was Robert Whitelaw (Robin) born 1 April 1880, who married Elizabeth and died 26 July 1955. He was educated in Cambridge and after leaving school joined his father's firm in the wood shop department. He served overseas in World War One and wrote home from 'Somewhere in France' in 1916 saying that he had noticed one of the wagons built in his father's Cambridge factory. He became a keen golfer and angler, and they had a daughter, Heather.
Charles Bathgate married Dorothy Kitt on 27 March 1923. In 1908 he had entered the government service as a cadet in the Life Insurance department. He had served as a Cambridge Borough Councillor, and was a keen member of the Domain Board, Beautifying Society, Historical Society and Presbyterian Church. He retired in 1952 and built a home behind his childhood home on Hamilton Road. He died June 1967 leaving three children.
Another son was Matthew Henry who died 5 December 1891 aged 5 years.
A daughter was Agnes Mabel (born May 1882) who nursed in Wellington and Gisborne before marrying Bruce Muir. They had three sons and Agnes died August 1946.
Another daughter was Margaret Pearl Beatrice (known as Pearl) born in October 1884, who did not marry and died 17 November 1954.