Collections
Our Cambridge Collection has changing exhibitions about Cambridge.  Much of our collection is in storage to ensure its preservation for future generations.
Depression Days in the 1930s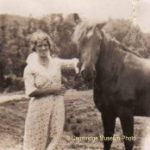 Imagine you are back in the 1930's depression. Your family is struggling on a farm on Buckland Road. Many neighbours are just walking off their farms. Aunty Ethel in Australia leaves you some money in her will – what do you do with it?
Rol Barrett and his family agreed to put a cold water tap at the back door.
The story started about 1909 when Rol Barrett arrived from Australia on a working holiday. Cupid primed his bow and Harold Goodwin Barrett and Annie Isabella Grantham were smitten. Annie's father didn't want to lose his only daughter so there was a two year engagement. A week after Annie's 21st birthday in 1911 she and Rol married.
They lived in the back-blocks of Taumarunui and worked at the local saw mills. Rol's weekends were taken up with farming and pig hunting – the only way to fill the pantry. Annie, as well as raising seven children, cooked for six single mill hands and life was ruled by the mill whistle.
Breakfast had to be over by 7 am. Then at 10 o'clock the smoko whistle meant a batch of scones and a billy of tea had to be ready. Hot fresh bread was baked for the 12 o'clock break and biscuits ready for the 3 o'clock whistle. After 5 o'clock the men would all troop over, ravenous for their hot meal.
Then the dishes had to be done and vegetables prepared for the next day. Washing, ironing, sewing and mending were all fitted in between meals and Annie also had her own vegetable garden.
The children all had their chores to do and no one went to play until they were done.
During the first World War of 1914-1918 the children were very proud of their uncles in their khaki uniforms.
There was a dysentery epidemic in 1917 and Clifford, only 5 years old, died. And then the frightening trip to the funeral when the buggy wheel caught on a boulder in the middle of the Wanganui River.
The flu epidemic – and Rol (after helping a sick friend) had to run stark naked across the back yard from the wash house where Annie had left hot water and lysol discenfectant for himself and his clothes.
Childhood, the bush, schools and books. Teenage years, milking, dances and the farm. Carrying buckets of water from the creek.
The shift to Buckland Road in 1928, and a farm in no mans land between Cambridge and Matamata. And here the tap at the back door came into its own – especially on wash days.