Collections
Our Cambridge Collection has changing exhibitions about Cambridge.  Much of our collection is in storage to ensure its preservation for future generations.
News and Theatre Courier Index of Advertisers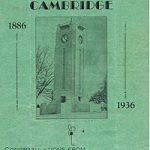 A free newspaper in B2 size, usually of eight pages, published by the Premier Printery, Cambridge, the News and Theatre Courier was run by V G Boulton from 1934 until he amalgamated with the Waikato Independent in 1942.
Listed here are the advertisers from the 12 August 1936, April 1937 and August 1937 issues.
If you find someone or something of interest in this index click here to contact us with as much relevant detail as possible.
Our research fees are here.
12 August 1936 advertisers
ATKINSON
BISHOP Harry
BOBBETT Miss
BOULTON V G
BOYCE A G
BOYCE C W
BOYCE R B
BOYCE T H
BURNS K
BUTTIMORE Eddie
CALVERT Geo
COLLIS J J
CROUCH Chas
EDWARDS W R
FLETCHER D
FOSTER H G
GILES Jack
GOODALL P
HARVEY Vera M
HASTIE
JAMES Edgar
JAMES J R
LEIGH E H
LOY L Y
MARGAN'S Butchery
MARTIN Geo
NAN Mrs
PANETTIERE Bros
PRIESTLEY C H
RAY M
RAY F T
RICHARDS T F
RIPPON Mrs M
SAYERS & WARD
SIMPSON Stewart
SMELLIE W J
SPEIGHT, PEARCE, NICOLL, DAVYS
TREGONNING Miss
WAGHORNE Chas
WALLACE
WILKINSON
ZAINEY'S FISH
---
April 1937 advertisers
BISHOP H
BOULTON V G
BOWDEN E G
BOYCE A G
BOYCE T H
CALVERT Geo
COURT Ray
GILES J
HARVEY Vera M
HASTIE
JAMES J R
LEIGH E H
MARGAN
MARTIN Geo
SAYERS & WARD
SPEIGHT, PEARCE, NICOLL & DAVYS
WAGHORNE Chas
---
August 1937 advertisers
BETTS E S
BISHOP Mrs
BISHOP H
BOULTON V G
BOYCE R B
BOYCE T H
BUTTIMORE Eddie
CALVERT Geo
COURT Ray
GILES Jack
HASTIE
HUGHES R A (Dick)
JAMES J R
LEIGH E H
LITCHWARK
MARGAN
MARTIN Geo
NAN Mrs
RIPPON Mrs
SAYERS & WARD
WAGHORNE Chas
WILKINSON
WORTHING T
---
Researched and written by Eris Parker
Ref: Cambridge Museum Archives