Collections
Our Cambridge Collection has changing exhibitions about Cambridge.  Much of our collection is in storage to ensure its preservation for future generations.
Police Station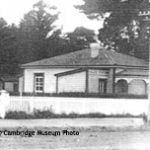 On 11 April 1882 the Waikato Times reported :- "The Government is contemplating the erection of a suitable Police Station at Cambridge. As there is no place at present for the convenience of the local constable and the public generally, this step is taken none too soon."
But the wheels ground slowly. Waikato Times, 14 November 1890:- "At present the office of the local constable is nothing more than a spare corner of a lumber room, in which is kept a goodly portion of reserve stores, the situation, moreover, being anything but convenient. Persons in search of information find their way to the private residence of Constable Brennan, which certainly does not tend to his domestic comfort."
Finally a station was built in 1899 at the cost of £335 13s 2d. It was used as the constable's residence with the office on the verandah. Later the 'station' was in the courthouse and then in a room at the Old Drill Hall in Fort Street.
The Waikato Independent reported in April 1939 that the Commissioner of Police, D J Cummings, was a visitor to Cambridge and arrangements were made for the erection of a new police residence adjoining the courthouse in Victoria Street.
Then in February 1940 – "Advice was received yesterday by Mr W S Goosman, Member for Waikato, from the Hon P Fraser, that work will be commenced shortly on the erection of a new police station in Cambridge."
The Victoria Street station was built in 1954, the old 'house' being removed to Tauwhare in September 1966.
An incident that Constable Ned Kelly remembered in regard to the station was when a swarm of bees got into the ceiling of the 'lockup' and they had a heck of a job getting them out.