Collections
Our Cambridge Collection has changing exhibitions about Cambridge.  Much of our collection is in storage to ensure its preservation for future generations.
Cambridge Club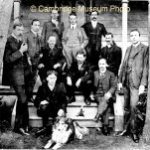 In August 1906, a meeting of 20 gentlemen unanimously agreed that the forming of a social club should go ahead. This became the Cambridge Club with John Lundon as president, J A Hammond vice president, and a committee of N Banks, W R C Walker, A A Kenny, E J Wilkinson, R T Tudehope and A F Stone. Secretary was C C Buckland and treasurer J A Hair.
A local builder, Fred Potts, with a tender of £664, got the job of building the clubrooms in May 1907. The architects were W S Rigby & Warren.
The building was of heart matai and totara, fnished inside with heart rimu. The billiard room was 42′ x 24′ – large enough to accommodate two tables. There was a raised dais at each end and provision for twelve gas lights. The ceiling was divided into three reeded panels and cornice mouldings.
The lincrusta dado was painted in colours and the walls above were covered in self tinted paper with figured frieze and picture rail.
The social and card rooms were each 18′ x 16′ with a folding door between. The interior woodwork was oiled and flat varnished. The mantle pieces were especially designed with tiled hearths and grates, and glazed earthenware curbs.
The octagonal hall was 16′ x 16′ with seats on either side.
The sides of the front entrance porch had vertical lattice work, with scrolls and brackets; the gables were timber framed and the panels covered with steel fish scales; the windows all moulded mullions with opening casements and fanlights; the front door and fanlights glazed with hammered Flemish glass.
The Clubrooms officially opened on the 24 October 1907
The Cambridge Club was reconstructed in December 1920 with A H Nicoll as President.
In 1997 the Club Rooms were remodelled by Garry Thomas and the building doubled in size. It also started admitting women as subscribing members.
In 2000 the Club became known as 'Victoria's Function Lounge' and now the firm, 'Lewis Law' owns and occupies most of the original building.
In 2015 the Cambridge Club could no longer afford the rent on their half of the building and moved to the Cambridge Bowling Club on Thornton Road.  They officially merged with the Bowling Club in 2016, being renamed the Thornton Club