Collections
Our Cambridge Collection has changing exhibitions about Cambridge.  Much of our collection is in storage to ensure its preservation for future generations.
Printing Press and Newspaper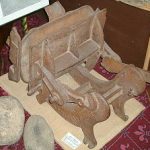 Donated by the Muirhead Family
Accession No.s 129 and 1155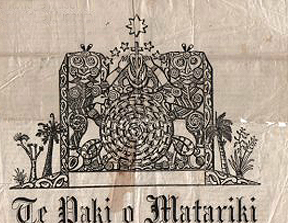 This relic was discovered and salvaged from a swamp on the Muirhead's farm at Te Miro in 1958. Made in the USA by Kelsey & Co., it is noteworthy in that it was used to print leaflets at Maungakawa Pa where a Maori Parliament had been established in 1890 under the leadership of King Tawhaio.
A Maori newspaper called "Te Paki o Te Matariki" or "The Girdle of the Plaeiades" (Seven Sisters Constellation) was also published at the Parliament from 1891 to 1902. Very few copies of the papers remain and a photograph of the first page is displayed with the press. The editor latterly was one Rawhiti.
The Maungakawa settlement was vacated in the late 1890's possibly because of a devastating influenza epidemic.