Collections
Our Cambridge Collection has changing exhibitions about Cambridge.  Much of our collection is in storage to ensure its preservation for future generations.
100 Years: 1911 Jan – Dec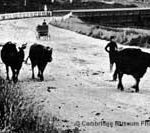 January 1911
The theft of a five pound note from the residence of Mr Jas Dean of Leamington, was reported to the police. From a clue that was quickly followed by Constable McNamara, the identity of the thief was soon disclosed.
A widower named Colam, who married a young girl at Gers in France recently, is the brother-in-law of her brother, who had married the widower's first wife's sister. A French newspaper asks what relation the bride is to her own brother and to his wife?
A number of farmers in the Cambridge district decided to wage war on hawks in a systematic manner. They recognised that since the Waikato Acclimatisation Society had come into existence that a persistent effort would be made to stock the district with game, and they had an incentive to help protect it. The winter months were the most favourable to the destruction of hawks, and it was anticipated that during the coming winter their numbers would be greatly reduced by trapping and shooting on the part of farmers.
A number of Cambridge residents spent their holiday at the Raglan seaside where 40 guests sat down to meals at Darrow's hotel.
On a recent occasion a Maori took a return ticket from a station on the Main Trunk line in the Auckland District to Cambridge. He had the misfortune to die there, but when his Maori family wanted to take him back by train on the return half of his ticket, the authorities objected and demanded £1 for the carriage of the remains. The anger of the family was extreme at finding that a dead man was more value to the railway than a live one, for the return ticket had only cost 2s 6d.
Colonel Stuart Newall D.S.O. paid a visit to Cambridge. He was a member of the Third Waikato Militia and after it was disbanded he joined the Armed Constabulary Force. It had been thirty years since he was in Cambridge and he found the town to have vastly improved since he first arrived here forty-seven years ago.
Those who partook in the polo practice at 'Bardowie' and enjoyed a beautiful afternoon tea provided by Mrs Jas Taylor, were – J Urquhart, M Wells, N Banks, Jos Graham, Shaw, I Taylor, S Banks, F Hunter, H Crowther and J Banks. There were also a number of visiting spectators.
Jarrett Bros were busy threshing ryegrass for Mr Richard Reynolds. It was thought that the Waikato was not capable of growing ryegrass but it was successful on ordinary grazed pasture. Geo E Clark and Sons had secured the seed line.
The Hungarian partridges that were released a few years ago and were thought to have died out were seen in the Cambridge area. A further twenty brace arrived and they were released on Richard Reynold's farm.
Leamington Town Board's answer for a swimming pool was a creek with an ample supply of pure water and material for concrete was nearby.
The Waikato Hospital Board thanked Miss Wells of Cambridge for the box of children's toys and books, and Mr Watt for the gift of a ham.
A Cambridge petition containing around 500 signatures was presented to the Minister of Internal affairs with reference to improvements to the Dismal Swamp [now the Cambridge Middle School].
The Cambridge community looked forward to its next big event, the Maungatautari Races. The meeting was always carried out with a view to providing a good day's outing and was deservedly poplar, and the public looked forward with confidence to a good day at the races.
Dr. Howden relinquished the position of medical superintendent at Te Waikato Sanatorium at the end of January.
A dance was held at Maungatautari on Friday 10 February to celebrate the opening of the new Public Hall. A large committee had been formed to carry out arrangements with Mr Lindsay Hay as secretary and they worked energetically to make the function a success.
Miss Johns announced that she had commenced her usual summer sale of millinery and haberdashery at her Cambridge premises. Every article was substantially reduced, and those who looked for a bargain were happy.
R T Tudehope advertised his 'Hot Time' sale of drapery, clothing and boots and by leaving the old tickets on the goods customers could see the savings they were making.
According to the old residents of Cambridge there was less water in the Waikato River than there had been for many years past.
The Cambridge Band rendered a number of selections in the Domain when a collection in aid of funds was taken up.
The usual monthly meeting of the Cambridge Borough Council was held during which the question of the erection of the municipal baths came up for discussion.
---
February 1911
Mr Rex Dunning has taken over a portion of his father's farm at Whitehall and is having an up to date home built. Mr Seymour Brunskill has acquired a portion of his father's homestead farm at Taotaoroa and harvested a particularly fine crop of oats. Milk supplies to the creamery were keeping up remarkably well considering the long spell of dry weather. On Mr Overton's farm a large area of scrub had been cleared and burned.
Advertisement –
'The Palace Boarding House, HoraHora, G J Grant Proprietor.
A first class Boarding House with every convenience. Everything cool, clean and comfortable. Visitors can rely on receiving every attention. Good, wholesome meals. Afternoon Tea. Large well ventilated bedrooms. Charges Reasonable.'
During the season a large number of black swans were reared on the Roto-o-rangi lake. A dozen cygnets were cut and their wings clipped.
Mr C Reid of Cambridge, while holidaying in Marton, drew up plans and specifications for a suite of shops. The tender was let and a clerk left in charge.
Cambridge polo team of Crowther, Taylor, Wells and Banks beat Hamilton by 5 goals to 4.
A pioneer settler of Pukekura, Francis Hicks, passed away to join the great majority. Mr Hicks was for some time engaged in droving between Hawkes Bay and Auckland. He was the first to install a private separator in the district, and claimed to have erected the first wire fence and to have grown the first crop of swedes in the Waikato. He left a widow and family of 13 grownup children.
At the second annual meeting of the local Y M C A the president, Mr G C Ellis, reported on the debt free building extension, Sunday afternoon Bible Class, fortnightly services at Te Waikato Sanatorium, Saturday entertainments ( helped by the Ladies Auxiliary ), and in winter the Parliamentary Debating Class.
The Ohaupo Sheep Fair on 8 February 1911 had 31,000 ewes, 3,000 wethers, 10,000 lambs and a good leading dog for sale.
Safety bars were fitted to the platforms of all railway carriages to prevent accidents in crossing from carriage to carriage.
Mrs Kidd, who had just bought Jas Gow's Confectionary and Fruit business, was selling plums for 1 shilling for 20 lb and bottling nectarines for 3½d a pound.
A number of handsome oak trees in the Domain and streets have again been attacked with phylloxera and the leaves are rapidly dying off.
Three staff transfers from the Cambridge railway station resulted in married men taking their places.
The Presbyterian Church started services at HoraHora.
Mrs M Norman of Cambridge had a copy of The New Zealander newspaper of 4 June 1853 in which was reported the marriage of her parents Mr George Innes Fraser, son of the commissioner to the Right Hon. The Earl of Seafield, to Marianne, second daughter of Mr G Mair J P of Whangarei.
Mr John Fisher resigned his seat on the Waikato Hospital Board because he was chairman of the Cambridge Dairy Co which provided the hospital with butter.
George Robert Birkett, the only child of Mr and Mrs Birkett died when he fell from a dray driven by his uncle.
A meeting was held for the purpose of forming an infantry corps in connection with the new defence scheme. It was now compulsory for young men between the ages of 18 and 21 years to join either the territorial force or the general training section.
Mr E Veale was calling for a working bee to repair fences at the show grounds and a few tip-drays, spades and shovels would be required.
15 February 1911 was the fiftieth wedding anniversary of Mr and Mrs James Forrest of Cambridge. For no less than 44 years of that time Mr and Mrs Forrest have lived in the one house. This is surely a record and one that takes beating. Many friends and family wished the couple many more years of happy married life.
Mr W R McHarrie's tender of £117 10s was accepted by the Borough council to paint the Victoria Bridge.
Mr R Cowley, a very old resident of Tamahere, has disposed of his 150 acre farm to Mr Washer of Cambridge. The property is one of the finest fattening farms in the district.
R T Tudehope [prior to Geo Calvert] inserted 'Not Wanted' adverts – Men's Serge Vest, Men's Linen Collars, Men's Straw Hats, Boys' strong hose, sailor collars for little boys. Remnants of all kinds 1s each.
The Cambridge School Committee was congratulated on its persistence in convincing the Education Board to grant permission the install a septic tank costing £60.
---
March 1911
Mr Jock Willis and his company thoroughly entertained and amused the holiday audiences at the Alexandra Hall on Thursday and Friday evening. The members of the company were excellent and the rendering of the old favourite songs were heartily received by the audience. Mr Willis supplied the humorous portion of the entertainment and kept those present in shrieks of laughter.
Harvest thanksgiving service was held at the Presbyterian Church Cambridge, with the Rev Gow officiating in the morning and Mr Jesse White in the evening.
Tenders are invited for the clearing of noxious weeds in Leamington.
Waikato Infantry Battalion Cambridge Company to meet at the Victoria Sample Room at 8pm. All enrolled members must attend and fresh members may enroll.
The property of Mrs Beeche on the corner of Queen and Grey Street was offered for sale. It contained 5 rooms, bathroom, scullery and safe, gas, hot and cold water, washhouse, copper and tubs, and included fowl house and stable with nearly half an acre of land. This was one of the finest residential sites in Cambridge.
Peaches for sale – 24lb boxes for 4 shillings cash at Karl's, Hautapu.
The first parade of the Cambridge Company, No. 4 Battalion, Auckland Infantry, was held on Monday evening, Captain S Lewis commanding, assisted by Lieuts Foster and Pearce. Twenty-five men of all ranks were on parade and several new recruits were sworn in. It is proposed to form a social club in connection with the corps, and later a hockey or football team, to enter into competitions. A parade is held every Monday evening.
On receiving advice that the hours of the local telephone exchange had been extended until 10pm the Mayor [Mr Geo. Dickinson] telegraphed to Sir Joseph Ward as follows. 'Cambridge citizens gratefully appreciate your action in extending telephone hours to 10pm. Kindly accept warmest thanks'.
The Masonic Hotel was taken over by J E Thorpe, late of Kati Kati and Northcote Hotels. The Masonic having been recently renovated offered accommodation second to none.
Mr John H Black, eldest son of Mr and Mrs Black, and Florence Isabel Ferguson, second daughter of Mr and Mrs Ferguson were married at the Presbyterian Church by Rev W J Gow. It was a very pretty wedding. The couple spent their honeymoon at Rotorua. The presents were costly and numerous, and well evidenced the popularity of the young couple.
Roto-o-Rangi school held its annual picnic in a field kindly lent by Mr Holbeche. The weather was all that could be desired, and by lunch time there was a large gathering of scholars, parents and friends. After a sumptuous lunch, a school prize of a book was given to each child. Races were run, then afternoon tea and "cow-time" brought a successful picnic to a close.
Mr Winston Churchill, Home Secretary, in the course of a Parliamentary reply, repudiated the allegations that emanated from 'that copious fountain of mendacity, the Women's Social Political Union' [suffragettes] and said 'the police in London, on the occasion of the suffragette riots, acted with customary forbearance and humanity'.
At the Empire Picture Company's showing of the picture 'Convict No. 796' a well known local lady will sing 'Lead Kindly Light'. The drama is about a convict who has been given a long sentence. He escapes from prison intent on killing the judge. When he hears the beautiful voice singing the hymn he breaks down into tears and reformation follows.
The Rev. Gibson, who was Methodist minister in Cambridge for five years, left New Zealand by steamer 'Moldavia', to take up work with the Australian Methodist Conference. He received many farewell telegrams from the residents of Cambridge.
Complaints are rife in Cambridge of the robbery of orchards and pumpkin and melon patches. One resident informs us that the whole of the pumpkin and melon garden were either stolen or destroyed by thieves the other night. The melons that were not removed were split open and rendered useless.
There were also complaints about dogs worrying and killing sheep in the Cambridge district. Two notifications have been given that poison will be laid and dogs shot on the properties of Mr N Reynolds of Karapiro and Mr Payne at Roto-o-rangi. Both have had several incidents with dogs killing sheep in the last few weeks, so in future any canines found trespassing on the properties named will receive a short shrift.
A little girl named Armer was crossing the High Level Bridge on her way home from school with her school friend when she was rushed and knocked down by a cow. Luckily Mr Geo McCullagh rescued her and took her home. She was not seriously hurt.
A special meeting of the Pukekura Road Board was held this morning and confirmed the raising of a loan from the State Guaranteed Office for the purpose of paying off the £2400 raised from the Auckland Savings Bank in connection with the High Level Bridge loan.
The building trade in Cambridge is particularly good at this time of the year. Tenders are called for homes in Thornton Road, Victoria Road, Queen Street and shops in Duke and Victoria Streets and also a farm residence on Victoria Farm Road.
The Maungakawa water scheme is to be put before Cambridge Council at its next meeting, when it is understood a motion will be tabled to obtain a report on the proposed supply.
A large stack of oats, the property of Mr R Ching, of Leamington was destroyed by fire last Friday.
Inspector Culler of the Police Department paid a visit to Cambridge yesterday.
A marriage is to be celebrated in Cambridge within the next month, in which the age of the bridegroom is 86 and the bride is 97. This is a fact, and is a strong argument in favor of the salubrious climate of the district.
Archdeacon Willis gave notice at St Andrews Cambridge that he would be glad to receive and forward any sums of money given or sent to him for the relief of the famine in China.
Mr Frank Morton the well known lecturer and poet has arrived in Cambridge and will deliver a lecturer entitled 'Memories and Dreams'. We are hopeful that a large audience will be there to greet him.
---
April 1911
A meeting of those interested in the return of Mr T F Richards as Mayor of Cambridge was held with Mr Reid presiding. Mr Richards dealt fully with his proposed platform, including the acquisition of the 'Dismal Swamp' (now Middle School), the gravitation water scheme and to improve the street lighting. Also to extend the gas main.
Any people that have purchased a return rail ticket and did not use the return half could obtain a refund on applying to the station master where the ticket was purchased. This fact is not generally known.
At a committee meeting of the Cambridge Tennis Club, Mr L Isherwood presiding, it was decided to present a silver shield suitably engraved to the winner of the various competitions during this season.
Evening classes for adult pupils of backward education were to be started by Mrs Wilkie of Leamington who was prepared to coach pupils for exams.
The fact that Mr John Ferguson, local blacksmith, decided not to offer himself for re-election to the Cambridge Borough Council was regretted by many people in the community. He had been a councillor for over 20 years and his practical experience had been of the utmost value.
The shingles on St Andrews Anglican Church were becoming very perished after just thirty years. At a parish meeting the main points of discussion were that iron was cheaper but shingles were quieter when it rained. Kauri shingles were unobtainable and tanekaha, matai or Californian redwood could cost £150 and that was a lot of money to find.
A young lady, residing not a hundred miles from the Cambridge Domain, decided to try the new 'harem' style skirt for the benefit of a few personal friends. All agreed that for freedom of motion, neatness and comfort the 'harem' would be hard to beat.
House and four acres (corner Shakespeare and Wordsworth Streets) changed hands from J J Collis to Mr W Masterton.
Hawks were becoming a nuisance in the area and Richard Reynolds' recently released partridges were at risk. Mr Reynolds was carrying out a vigorous campaign against them.
Mr Brooks moved, at the St Andrew's Anglican Church Annual General Meeting, that a special effort be made to raise £150 for re-roofing the church with kauri shingles. Also that each of the parishioners be invited to make a golden offering if possible.
A cow that gave passers-by a pretty warm time by pinning two horsemen on a fence and knocking two cyclists from their machines – 'received its quietus in the shape of a bullet.'
In a Letter to the Editor A Blackman says,'I see there are a number of aspirants for honours at the forthcoming Borough elections. A note of warning is opportune. Electors should give more than a passing thought as to who they intend to vote for, otherwise history will repeat itself and we shall have a Council of muddlers.'
The weather was fine for the Easter holidays and all the available accommodation in Cambridge was taken.
The Primitive Methodist Ladies Missionary League committee (Mrs G Beer, Miss A Simpson and Miss J Jamieson) were organising a garden party at Fencourt in aid of their fund raising.
Friends of Miss Sissy Fisher gave her a farewell from Pukerimu on her upcoming marriage to Mr G M Watt.
During the month of March the Labour Department's Bureau in Wellington found employment or otherwise assisted 90 married and 119 single men, with 299 dependents. Of this total 150 were sent to private employment and 59 to public works.
Easter Weddings – in the Taotaoroa Schoolroom Miss Doris Overton to Mr Seymour Brunskill. Princes Street residence – Miss Bessie Atkinson to Mr Ceagus Henry Thomas George Twidle. At St Andrew's Church Mrs J Longley of 'Waterside' to Mr William White. At St Paul 's Methodist Church Miss Frieda Grace Vosper to Ernest G Martyn.
The former Cambridge Library Trustees decided to spend their carefully nursed nest egg of £90 on reference books for the new Carnegie Library.
Every male inhabitant of New Zealand, who on the first day of March 1911, had attained the age of fourteen years and upward, but had not attained the age of twenty-one years, was to fill in a prescribed form of registration in respect to military training.
Maungatautari School committee were Messrs T A Hicks (chairman and secretary), J T Hicks, R Heaslip and C E Hicks. As these were the only persons present three other members had to be elected by the government.
---
May 1911
The shooting season opened with no license required for grey and teal ducks, pukeko, native pigeon. License holder could shoot cock pheasant, Australian and Californian quail.
On the anniversary of the death of Thos Wells, Mr W H Herries MP, formally opened the handsome gates erected to his memory. The committee had the voluntary assistance of A B Herrold and the work was carried out by McNab & Mason for £298 10s.
'At the conclusion of the Cambridge Road Board meeting the members purchased a handsome silver mounted Worcester china salad bowl for presentation to Mr Gilbert Watt, one of the retiring members, who recently joined the ranks of the benedicts.' [Newly married men who were previously considered confirmed bachelors]
'A hunting party on Mr J Peake's property at Roto-o-rangi were well pleased with their bag of hare, pheasant and pukeko. The largest bag was secured by a member of the fourth estate, but his luck was undoubtedly due, in a degree, to the fact that he had borrowed the policeman's gun. The party's pleasure was materially increased by the hospitality of Mrs Peake senior who entertained them in a manner characteristic of her liberality.'
A Japanese expedition to the South Pole returned unsuccessful after having lost ten of their eleven dogs.
A total of 17,500 out of 71,000 eligible cadets had registered in the Dominion for compulsory military training.
Wild pigeons were numerous with J Martyn shooting fifty at Maungakawa and Fred Strawbridge securing a bag of twenty at Maungatautari.
'There is no gainsaying the fact that kinematography has made such wonderful strides during the past few years.' The Empire Picture Company showed a double programme at the Town Hall owing to a thunderstorm the previous Thursday. Fully eight hundred people demonstrated its pleasure by frequent applause.
Messrs C Boyce, Geo Giles, Geo Hastie, Frederick Reynolds, Neil Randle and C Attwood were all fined for breaking the bylaws of the Town District of Leamington, by allowing horses and cattle to wander on the streets.
The friends of Constable McNamara who had been stationed in Cambridge for the past eight years, hardly knew whether to be glad or sorry at the news that he had been promoted to the rank of sergeant. He was notified to hold himself in readiness for departure within a fortnight. His duties had been multitudinous for in addition to have a very large district to supervise (on horseback) he also acted as clerk of the S M Court .
The census figures were for Cambridge 1464, Leamington 259, Te Awamutu 645 and Kihikihi 259.
A most enjoyable ball was given by the Misses Taylor, of 'Bardowie' in the Town Hall when fully 200 people were present. Mrs Taylor received her guests dressed in black brocaded silk, trimmed in jet with a black and beaten silver scarf. Miss Taylor pink and grey shot silk with tunic of grey ninon and silver trimming and pink scarf. Miss Molly Taylor white satin draped with ninon and pale blue scarf. Miss B Taylor white satin, with tunic of white ninon and silver trimming. Miss Myra Taylor pink silk crepon frock, black ribbons in her hair. Miss Helen Taylor white muslin with pink ribbons.
The Rev W E Connolly volunteered to be the first Cambridge Scout Cadets Scoutmaster and apparently possessed all the qualities that were looked for. Enthusiasm, manly bearing and popular with the boys. Their first meeting was 15 May 1911.
A rabbiter on the Gorton Estate at Karapiro turned his attention to catching hawks as they had destroyed his trapped rabbits before he could get to them. In a week he had brought to the Waikato Acclimatisation Society over one hundred heads.
A Dodd and W Sharkey came first in the Mandolin Duet at the Musical and Elocutionary Competitions in Hamilton and Jessie Sharkey came third in the under 16 years Violin Solo.
Mr K R Court advertised that 'Every woman who desires to be in perfect accord with fashion, and yet be truly comfortable, should wear Warner's easy-fitting rust-proof corsets. They give freedom of movement with figure elegance.'
Sergeant McNamara was transferred to Newton in Auckland, Constable McCarthy from Kihikihi was stationed in Cambridge and Constable Ryan from Taupo took charge at Kihikihi.
Messrs Trythall & Heath, Cambridge exhibiters at the Auckland Winter Show, secured a first prize for beeswax, first for the most attractive display of honey and other honey products and second for honey in glass jars. Mrs E Veale and Mrs H L Nixon each secured a first for hen eggs.
The new public school at Hautapu, on the corner of the Duncan Brothers' farm, was opened on 15 May without any ceremony.
A Defence Rifle Club was formed in Cambridge with C C Buckland president, M D Nicholas secretary and treasurer. Along with Major W R C Walker and Fred Potts they were to draw up the rules.
---
June 1911
St Andrew's Ladies Guild and Choir bade farewell to Mrs A F (Emma) Stone with a gift of a gold neck-chain and pendant of rubies and pearls and a silver vase as the family moved to Hamilton. Miss Eileen Stone was presented with a silver picture frame.
A Cambridge Literary and Debating Club was formed with C Reid president, A N Mackie vice and A B Trythall secretary.
Under Business Memos – 'Miss O'Connor, dressmaker requires smart improvers.' 'Good accommodation may be obtained at Dominion House in Duke Street.' 'Replies to 'Willing' are lying at this office.'
'Half the cocoa sold throughout the world is probably Van Houten's.'
'Butterfly tea is stocked by all grocers.'
No less than 2600 entries had been received by the 5th annual Waikato Winter Show and promised to be the finest yet. A special train was to run from Cambridge to Hamilton during show time.
The Mayor, George Dickinson, Richard Reynolds, Dr E E Roberts, John Lundon and Sam Lewis all spoke in glowing terms at the farewell of Sergeant and Mrs McNamara. Mrs McNamara received a purse of sovereigns and the Sergeant an illuminated address.
The ladies in the Hautapu district decided they would organise a social evening to commemorate the opening of the new school.
Mr Geo R Simpson and his daughter, Annie were preparing for a trip to England. Annie was presented with a travelling rug from the Methodist Church.
The Independent Order of Oddfellows presented Constable McNamara, Grand Master of the Lodge, with a handsome set of regalia.
Miss E Ruge, on severing her employment with R T Tudehope's after nine years, was presented with a cheque and a silver cake dish.
Archdeacon Willis bought J A Hair's house and section in Queen Street.
The YMCA introduced P.S.A.s into the lives of the young people of Cambridge. Pleasant Sunday Afternoons spent by the young men and their friends, with bright singing, short talks, readings, vocal items and sacred songs.
Before Mr A Bateman of the local Post Office, took up his transfer to Hamilton, he tried his hand at pigeon shooting. 'As he ascended a slight rise he was charged by a wild boar and beat a hasty ascent of a nearby tree. It was after nightfall before the animal, doubtless seeking more exciting companionship than a hunted huntsman, wandered away into the bush.'
The Hautapu ladies spared neither time nor trouble to make the concert to celebrate the opening of the new school, a success. It was 2 a.m., after supper, dancing and more supper, before three cheers were called for the ladies and the residents made for home.
The newly formed Boy Scout troop paraded near the Gasworks and were instructed in field work by Scoutmaster Connolly.
The Cambridge Baptist church, who held their services in the YMCA, were growing to such an extent that they purchased property in Queen Street for a new church.
The Inspector's report for the Leamington School read, 'Order, discipline and tone of the school etc, is very good; the work done is creditable alike to pupils and to teachers.'
The newly formed Literary and Debating Society held its first meeting with part of the evening devoted to social entertainment.
Peter Petersen, butter-maker at the Dairy Factory at Hautapu for the last five years, left to be manager of the Whenuakura factory near Patea.
There was a social in the Schoolroom at Pukerimu to farewell Mr and Mrs Sturges and convey best wishes to Miss Winnie Scott and Mr O E Gane on their upcoming nuptuals.
The tender of Messrs Giles Bros was accepted by the Cambridge Cooperative Dairy Co, Ltd for the erection of a creamery at Pukeroro.
Advert –
He kissed her with might and with main,
She pleaded, "Don't do it again –
For I have a cold, and I've often been told
That people with colds should refrain."
He chortled in frolicsome vein,
"Those blessed old microbes again!
A remedy sure's Woods' Great Peppermint Cure,"
So he kissed her and missed the last train.
The old Roman Catholic school in Victoria Street was purchased by Jared Allwill of Hautapu.
175,000 Coronation medals were ordered for New Zealand school children.
Miss Mary Tucker of 'Pengover' in Leamington married Oliver Strawbridge, in a gown of cream voile. Miss Nina Hicks of 'Lanherne' Pukekura married Lindsay Hay, in a navy blue travelling dress. Miss Winifred Scott of Pukerimu married Oswald Gane, in pale cream crepe silk voile.
At the Leamington Town Board meeting Mr A C Hill reported that Browning Street and Lamb Street needed metalling – no action was taken.
The annual Regimental Ball was a great success thanks to the organisation of Captain Lewis, and the local ladies for the detail attended to the food and flowers.
The Cambridge Post Office was handsomely decorated with flags and bunting in connection with the Coronation of King George V. The local children were treated to a living picture entertainment in the Town Hall and given a box of chocolates and a service was held in St Andrew's Church.
Mr William Taylor of the 'Locheil Estate' at Ohaupo hosted the second sheep dog trials under the auspices of the Waikato Sheep-dog Club.
The Waikato Hunt's hounds were thrown off by the 'Broadmeadows' homestead at Bruntwood and from start to finish it was a ding-dong go. Mr Jack Martyn had fixed up fences to suit the hardiest riders and Mrs Martyn set before those present an 'afternoon tea' that would tempt the most jaded appetite.
A delegation from Cambridge (R Reynolds, C C Buckland, C A Whitney, E B Hill) representing the Waikato Acclimatisation Society travelled to Auckland to discuss boundaries. "We will not give you an inch of ground until you give us good reason," said the Auckland chairman. Our delegates spoke 'sharply' and 'warmly' and matters got 'breezy' and so the Minister was asked to appoint a commission to go into the whole matter.
---
July 1911
Mr Joseph Keeley took over the butchery business of Ezra Brockelsby in Duke Street.
The Cambridge Borough Council discussed the fate of the old Chambers with members stating it was totally unfit for human habitation and should be burnt. The Health Inspector was to be given the last word.
Mr F W Butler C.E. gave his report on the Maungakawa Water Scheme which suggested damming the Karapiro Stream. Mr J A Pond, Colonial Analyst stated, "This water will prove a satisfactory potable supply providing it is filtered."
Twenty years of long and faithful service was recorded in Council minutes as Mr H Preece tendered his resignation.
Misses Eyre and E Hill took over the Victoria photographic Studio and every confidence was reported in their venture.
Mr R J Roberts, father of Dr E E Roberts and chemist E J Roberts of Cambridge, died at his home of 'Belmont' in Auckland.
At the annual meeting of the Cambridge Fire Brigade it was recorded that they had one alarm of fire during the year. They had a credit balance of £5 19s 8d and Firemen J Conder and J McNeish were appointed Station keepers.
Miss Johns, milliner and ladies outfitter of Cambridge, was advertising ladies' underclothing and furs 'at actual Auckland Sale prices.'
The Editor answered C Reid's letter, with regards to his views on the Maungakawa Water Scheme, "Mr Reid is simply endeavouring to hide the issue under a heap of sentimental twaddle."
The friends of Mr E Palmer and Miss McComish gave them a surprise 'kitchen party' where gifts ranged from a cookery book to a pair of bellows. A dainty supper was provided and the guests indulged in dancing, singing and games.
The committee of the District High School appealed to parents for a contribution for land to extend the playground. An acre was available at £300 and the Education Department contributed £250. Each committee member donated half a guinea each.
Mr La Trobe's 'Kenilworth' private boarding house was sold to Mr Le Prou from Huntly.
F J Marfell had for sale 100 acres of drained swamp all in grass and a three roomed house for £1600.
Hunter and Banks had sections of the well-known Hora Hora Estate from £4 upwards per acre.
E R Day had an acre and house opposite the Domain. £100 down and balance of £275 at 5 per cent.
The Fencourt people are known for their heartiness and those attending the latest social evening were not disappointed. The Primitive Methodists put on a concert and a thoroughly good time was had by all.
The Boy Scouts' concert was well attended and the farce 'A Couple Of Scamps' was the star item. The cast were A Stubbings, B and R Ashwin, I Cott, W Lovatt and W Beavis. A bugle and a pair of boxing gloves were donated to the troop by Messrs King and Jas Watters.
There was a great gathering of farmers, their wives, daughters and friends at the Town Hall for the annual social gathering of the Farmers' Club. 'Dull care was thrown to the wind and jollity and gaiety reigned supreme. Dancing and euchre were the two main entertainments and the ladies supplied a plentiful supply of delicacies of every description for supper.'
While Mr Fred Potts was taking up and replacing the floor of the Maungatautari Hall, the ladies arranged a social in the school room. 'Fickle Dame Fortune was in generous mood and music, floor and weather were perfect. The supper was abundant and tasty in the extreme.'
St Andrews Anglican Church deferred re-covering the church roof as only £60 of the £140 needed had been collected.
For the last quarter of the S.M. Court in Cambridge there had been seven sittings. £401 out of £440 had been recovered; there were four cases of drunkenness; four old age pensions were granted, one refused and eight renewed.
There was a large crowd at the railway station to farewell recently married Fred Thomason and Annie nee Ruge. The bride and groom left amid showers of rice and confetti.
Everything was in splendid order, floor, music, attendance, refreshment and partners when the Waikato Farmers' Club held its annual reunion. Dancing, entertainment, progressive euchre and games kept everyone entertained.
'Owing to the damage done to the backs of the seats in the 'pit' of the Town Hall the Borough Council has decided to replace them with a dozen seats without backs.'
Miss McComish, who was severing her connection with Thos Well's establishments, was presented by her fellow workers with a handsome bangle set with diamonds and an emerald.
Doyle and Bertlesen, representing Monavale waited on Greenslades M.P. pointing out the need for a daily mail service, the telephone and constitution of the drainage board.
---
August 1911
An Anglican Bishop in the course of a lecture on 'Laughter' recited –
Mary had a little skirt,
All tied up with a bow,
And everywhere that Mary went,
She simply could not go.
Mr A J Dwight, secretary of the Cambridge Brass Band, asked the Borough Council for funds – in return they would play at the Rotunda during the summer months. As the Band had 'cut the painter' and become a registered society, the Council could no longer make a donation without setting a precedence to other musical bodies.
Acknowledgements were made through the newspaper to the people who donated the £50 needed for an additional acre for the Cambridge School.
Cambridge butchers stopped traversing the town with their carts but would take an order one day to be delivered the next.
The introduction to the big world, of Mr W Vosper's early lambs, was made under the most favourable circumstances – but were about to cringe at some imminent stormy weather. Last year Mr Vosper sent over 12,000 fat lambs to tickle the palates of Auckland epicures.
Wedding bells rang merrily when Mr Richard England wed Mrs Vickers senior. 'The bride and groom looked radiantly happy, not withstanding their mature years.'
'Instructions have been issued by the Government for the erection of a monument on the site of the famous battle at Orakau Pah, and the erection of this monument will serve to mark one of the most historic localities in New Zealand. The Waipa County Council are, we understand, to be asked to level the road at the site, and on completion of this work the erection of the monument will be put in hand at once.'
Miss Anderson Hughes, a temperance speaker from England , delivered a lecture to a large audience in the local Alexandra Hall. She gave the origin of the 'catch my pal' movement.
The crying of young calves were heard in the Roto-o-rangi district and the dairy cows were coming in fast. Owing to the early spring there was an abundance of feed. The infectious disease of measles hit the district and the school roll dropped from 39 to 12. But the worst is over now.
Mrs Pilcher of Weld Street wanted half a dozen young Pullets and Cockerell. The Hockey Club advertised they were going to charge admission to Victoria Square. An elderly man wanted work – hour or day labour.
The Cambridge Rod and Gun Club members arranged a shooting match for trophies including a rose bowl presented by Mr C A Whitney valued at £10 and a silver flask presented by Messrs J Burns & Co. the balance of funds went to the Anglers' Club to help pay for hawks' heads. They also wrote to the Auckland Acclimatisation Society asking them to cut down the ti-tree on the Waihou Stream as that was the only fishing river available to Cambridge anglers.
The Cambridge Band asked the Leamington Domain Board to contribute to its funds stating they would play at the Domain on Sundays. The law would not allow the Board to contribute and suggested the band take up a collection.
The Cambridge Boy Scouts hockey team played against the Hamilton Boy Scouts team and came home the winners 7 – 1. L Webber, N Bell , T O'Toole and A Stubbings scored the goals and were then entertained at tea by the Hamilton Girl Scouts.
The Leamington School was organising a concert to provide money to sink a new well for drinking water.
C Chitty lost a jersey cow with a 'C' on its rump. W Warrington lost a Irish Terrier pup. Pat Crosby of Matamata wanted 25 men and strong lads for scrub cutting.
The Cambridge Gasworks had 2000 gallons of tar in store ready to use on the local streets and footpaths.
The Waikato Hunt Ball, one of the most important social gatherings of the year, was a pleasing success. The organisational skills of Mr Innes Taylor with his tact, judgement and high degree of technical knowledge, made for the satisfaction of all those attended. The decorations were particularly lavish, the supper tables were most artistically decorated and the floor was in excellent condition.
In the South Auckland Golf Championship tournament held in Cambridge, local A H Nicoll and L Seifert of Palmerston North met in the final. Nicholl was one up at the 'River' after Seifert found the ploughed field. Both had poor drives to the 'Bluff' then Nicoll got bunkered and they were even. Both reached the 'Hollow' in two and Seifert got a useful drive to the 'Willows'. Nicoll lost his ball in the gorse and eventually Seifert was 6 up and five to play.
Mr and Mrs James Taylor had a very large house party for golf week. Mr and Mrs Channing Buckland entertained about 100 local and visiting golfers at a dance and bridge party.
When the Leamington Domain Board opened their new pavilion the previous year, there was no crockery for afternoon teas. Mrs White and Mrs Kingdon collected £5 5s and purchased the necessary equipment for providing tea and light refreshment.
The Roto-o-rangi School was in a predicament – they were trying to fit thirty-five children into 18 seats and there was no school house for their married teacher.
Miss Alice Maud Clark, looking charming in a white oriental satin gown with the orthodox veil and orange blossom, was married to Alfred Robert Cox in the Methodist Church.
Miss Mabel Birkett, looking very dainty and chic in striped silk voile trimmed with insertions and lace and veil and orange blossoms, married Jack Jarrett at the Leamington Methodist Church.
The annual shooting competition for Dr Roberts' Cup was won by J P Keeley – 90 points and in second place was J Peake with 83 points and third Serg Major Jeans with 80 points. [This cup is in the Cambridge Museum.]
The Whitehall residents, after agitating for improved postal facilities, got a post office which the settlers erected next to the creamery. Mr C E Jeans was appointed Post Master in addition to the contract to convey the mail bi-weekly between Cambridge and Whitehall .
---
September 1911
A good attendance at a smoke concert of the Leamington Hockey Club saw the presentation of the Championship Shield to the president. Mr Charles Peake then presented the winning team with Caps donated by captain, E Faulkner, and badges given by Messrs Hallenstein Bros.
'Answer to a Correspondent – Queen Street, – Two courses of action are open to you – (1) Put two jugs out, with a note requesting your milkman to keep the milk and water separate from each other, as you are capable of mixing them; (2) Send a sample of the 'milk' to the health authorities and ask for an analysis.'
Mr Samuel Lewis, solicitor of Cambridge was admitted as Barrister of the Supreme Court of New Zealand by Justice Chapman at Auckland.
One of the largest and most important deals ever transacted in pedigree stock for the Waikato was that made by Mr C Channing Buckland, of Monavale, at the dispersal of the famous milking herd of Holsteins owned by Mr W T Woods of St Helier's Bay Auckland. Two of his purchases were Glendowie Beauty and Glendowie Emerald, and a young bull Veeman's Lad.
The newly built Horahora Bridge was said to be probably the largest and heaviest wooden single span bridge erected in the Dominion. It was 120 feet across, made of Australian jarrah and weighed about 50 tons. The engineer was F W Butler and contractors Kennedy and Taylor.
'Visitors from all parts of the Dominion, who are interested in the horse sales now being conducted, are in Cambridge at present. The hotel accommodation is being taxed to its utmost capacity.'
A hockey match between the Cambridge and Hamilton Boy Scouts on Victoria Square resulted in a win for the home team by 6 goals to nil. L Webber scored 5 goals and L Black one.
'Sir,- with reference to your letter of the 20th ultimo., I have the honour to inform you that the Education Board has now been advised of a grant for the erection of a teacher's residence at Roto-o-rangi. I am, etc., Geo. Fowlds, Minister of Education.'
A masquerade ball, held at Taotaoroa school, was so well attended it taxed the available floor space to its utmost.
Both the Presbyterian and St Peters Catholic churches held very successful bazaars and fancy fairs.
'The following instruction has been issued to all postmasters: When any postmaster has reason to believe that an old-aged pensioner has become possessed of sufficient property or income in excess of the amount of pension granted, or is in receipt of regular employment, or misspends his pension in drink, he shall at once report confidentially to the Commissioner at Wellington and refrain from paying further instalments until otherwise instructed.'
W F Buckland won second place for 40 distinct varieties of Narcissi. Included in his entry was a beautiful 'Queen of Spain', the new 'Homespun' and the perfumed 'Vanilla'.
The folly of riding bicycles at night without lights was forcibly demonstrated when Alf Dray came into collision with H C Bertelsen near the Victoria Bridge. Mr Bertelsen received rather severe injuries to his head and was conveyed to Victoria House and attended to by Dr Edmonds.
Visiting horse buyers affirmed that they had never seen a better assemblage of high-class horses than those offered in Cambridge during the week. Local auctioneer, Mr McCullagh, quitted fifty horses in a little over half an hour, at a very high average price.
The Leamington School held a concert in the school room with a crowd that spilled out of the door. The aim was to raise money for an adequate water supply. £6 15 shillings was raised.
The new creamery at Pukeroro, recently erected by the Cambridge Co-operative Dairy Co Ltd, was opened with Harold Roberts as manager.
Fred Potts erected a handsome new residence on the Leamington side of Victoria Bridge for Mr Harry Bell. The acre of land was put in the hands of a local landscape gardener.
Mr W G Care built a new brick building in Duke Street to accommodate the Waikato Independent newspaper, practically opposite the Legal Chambers where it had been publishing for a number of years.
An epidemic of measles reduced the local primary school attendance by a half.
Arthur Curtain, house decorator and picture framer, moved into new premises in Victoria Street. He had worked up a very fine business and his new premises afforded a spacious showroom for artworks, with storeroom and an upstairs gallery to display wallpaper friezes etc.
A public meeting was being held in Leamington to consider the proposal to borrow £600 to erect a Town Hall and Council Chambers.
---
October 1911
W McDermott, post master, informed the Cambridge Borough Council that he would have no objection to having street names on telegraph poles.
Griffiths & Son, land agents of Cambridge, advertised the subdivision of Moana-Vale Estate of 150 to 450 acres farms. 4% cash and the balance at 4½%. 'A great opportunity to secure a good property on easy terms. Situated 9 miles from Cambridge and 1 mile from the creamery.'
Wilsone and Havelock-Green, the proprietors of The Waikato Independent newspaper, in saying goodbye, felt sure – 'that as soon as better railway facilities are available it [ Cambridge ] will attain a position amongst the towns of the Dominion to which its many natural advantages entitle it.'
The newspaper formed a Company, 'the members of which association include leading agricultural, commercial and professional gentlemen – all local residents – whose interests are bound up in the welfare of the Waikato district.'
Some young ladies had been celebrating the glorious weather by trick bicycle riding on the new tennis courts. The committee was very keen to get their names as their 'fun' had put the club to further expense in repairing the damage.
The Croquet lawns [ Cambridge Kindergarten ] were in excellent condition ready for the opening; Mr C W McBride was acting president and Mrs Tudehope donated a trophy.
A young man's lapse (presenting two stolen cheques) was 'attributed to an attack of Cupid's dart through the attractions of a fair young nymph'.
Goodwood School and Miss Nixon, got a big tick from the Inspector – Order and discipline, and the tone of the school with respect to diligence, alacrity, obedience and honour are distinctly good.
The Fencourt bachelors put on a successful dance with excellent music and a tasty and plentiful supper. Over forty couples graced the floor.
The Maungatautari ladies gave a plain and fancy dress ball but because the milking season had arrived the guests departed early at 1 am.
As a result of a very successful concert at Roto-o-rangi the debt on their piano is nearly extinguished.
Mr and Mrs John Fisher were recognised for their sterling worth and presented with many complimentary speeches and 'some beautiful specimens of the silversmith's art.' Mr Fisher in replying mentioned that 'though not able to work as before (and perhaps he was becoming conservative) he preferred rather to wear out rather than rust out.'
A note from the new management at the Waikato Independent – (1) No advertisement in the 'Independent', no report. (2) No complimentary invitation to attend an entertainment (concert, social or dance), again no report.
The first sighting of a minah bird in the Waikato was noted at Pukekura. "Nobody desired to see the visitor as her sisters, cousins and aunts are undesirable in the eyes of the farmer and Waikato will feel grateful if it ever remains a 'minor' quantity."
The Pukekura Road Board had their solicitor draw up an agreement with the Peppercorns for the lease of the gravel reserve. The chairman suggested the road from the Redoubt past the Seventh Day Adventists' farm be called Advent Road.
The local tennis courts would not be available for play until more members attended the working bees. Although the rain had helped, still vigorous rolling was needed to set the new top dressing.
Ven Archdeacon Willis surprised his congregation by announcing that, after 34 years in the Parish of Cambridge, he had forwarded his resignation to the Bishop. Because of his advancing years and deafness he felt out of touch with everybody and everything.
The old Catholic Hall was moved to Hautapu and opened in grand style with a concert and dance. The Mayor, Mr Dickinson, while doing the honours, thanked Mr J Allwill for his enthusiasm for the betterment of Hautapu. The hall was to be used for Church services as well as social gatherings. The light fantastic was gaily tripped until 'an hour beyont the twal.'
In the local court R Petersen was fined five shillings for riding a bicycle without a light. P Robertson, C A Sharp, A E Williamson, H O Holcroft and A Boyce were all fined one shilling for riding across Victoria Bridge at other than a walking pace.
At the annual meeting it was reported that 'The local branch of the Y.M.C.A. is one of the most helpful institutions of the place in furtherance of the moral and physical welfare of the young generation of Cambridge. Its members have shown courage, resource and self reliance of a very commendable nature. They recognise that the social side of life plays no small part in advancing the motive underlying the Y.M.C.A. movement.' They were involved with gymnastics, tennis, debating, music, wrestling and Bible reading.
---
November 1911
'There was much animation on the Cambridge Croquet Club's grounds when the season was formally opened. The situation is a good one, the surroundings delightful, and the 'royal battle' a beautiful green, while bright weather prevailed. When to all this is added – as was the case – charming and daintily attired ladies, the scene, as can readily be imagined, appealed to the eye and the sensibilities of all who can appreciate the beautiful.'
'Waikato has lost a highly esteemed old settler, through the death of Mrs Ann Hannon, at the ripe age of 77 years. She was a very successful, as well as decidedly worthy settler of the Hautapu district where she had a beautiful farm. Her residence there is given as nearly fifty years.'
A Roto-o-rangi resident wrote to the paper asking what had happened to the house for the school master.
Teetotaller wrote 'Whether I drink or whether I don't has nothing to do with Mr Marfell or anyone else, and because my neighbour likes a drink that has nothing to do with me, and I'm not going to make any attempt to put it out of his way because I don't drink.'
The Magistrate's Court in Cambridge was busy with cases against the three hoteliers, E W F Gohns, Jas Watters and A Thomas, who had not kept their half holiday books. They pleaded ignorant of the law but were fined £1 with 9 shillings and 6 pence costs. W Hogan, builder, was fined for not keeping a wage book as were Muller Bros and George Robertson bakers, and cabinet maker C Reid. The bakers said they worked on 'happy family' lines and they and their men arranged matters so that they could attend sports or go out to afternoon tea in an amicable way, but under existing circumstances they had to dismiss their men and do the work themselves.
'The children of Roto-o-rangi district were very fortunate in having such a capable teacher as Mr Paine senior.' He had a gift of imparting information and was a 'clever and thoroughly capable user of the blackboard.'
Mr B O'Toole had been employed in John Ferguson's coach factory for eight years and decided to try his fortune elsewhere. He was farewelled with a neat little smoker's companion and razor presented by Mr R Carr, the oldest member of the staff.
The new Horahora twin-rod Howe truss suspension bridge over the Waikato River, connecting Maungatautari with Matamata, was made possible by the enterprising settlers taxing themselves to guarantee a loan of £1,200. The total of £1,463 was made up with donations.
Mr F W Butler was the engineer and Kennedy & Taylor the contractors. Mrs Keeley, wife of C W Keeley, chairman of the Matamata County Council, was presented with silver engraved scissors and did the honour of cutting the ribbon. A flying fox had been provided prior to the bridge to get goods across the river.
While the manager of the Tamahere Creamery was carting the cream to the central factory at Hautapu, the building burnt down. Mr Martin Butler, the secretary arranged for half the suppliers to go to Pukeroro creamery and the other half to go to Matangi.
At the Fencourt Primative Methodist Church anniversary 'Friends had driven from far and near, and the church ground was a sight to see filled with all sorts of vehicles which had discharged their living freight at their destination. The building was thronged. An abundance of good things had been provided, and a fine company sat down to enjoy the bountiful spread.'
The Masonic Hotel burnt down with all the commercial and domestic contents. Joseph Richards, who had been staying at the hotel for over two years, woke at four a.m. to find smoke coming in his window. He alerted Mr King and they aroused the inmates who evacuated by the fire escape not a moment too soon. They assembled outside bootless in their night attire. Fortunately it was raining heavily and although neighbouring buildings were damaged, they were saved by the courageous fire brigade.
Cambridge Borough Council made an amendment to Bylaw No 1 Clause 116 (a) 'so as to make it unlawful to erect any building intended wholly or in part for residential purposes, upon any section of land of less than one quarter of an acre in area.'
The Anglican Rose Show and Fancy Fair was a great success with Mr M McDermott, R Conder and Mrs E N Souter taking away five of the main prizes. Dr Douglas of Hamilton won the champion bloom. Mr Lippiatt from Auckland, put on a display of over 2,000 blooms.
Mr Cornaga, the owner of the Masonic Hotel, decided to rebuild in brick, up-to-date and larger than that destroyed by the fire.
At a Leamington Town Board meeting Mr J Vickers asked that a bridle track be made from the upper to the lower levels in Spencer Street . Seeing it would only take a day the surfaceman was set to work.
Mr T Vanes and J Chambers asked to be able to look after the soldiers' graves in the Leamington cemetery. They were given posts and netting to keep the rabbits from the flowers.
Mr M Johnson was appointed caretaker of the Leamington Domain. He was asked to keep the door to the pavilion locked when not in use as a wandering swagger was in the habit of making it his domicile.
Mr H Riley, the Cambridge tailor let us know that 'Deft fingers will mould your suit to fit perfectly. As for style – well, you may be sure it will be correct.'
'Pater', in a letter to the editor against the felling of a tree said, "If from no point other than that of comfortable utilitarianism (the be all and end all) our trees are an asset. We are known by them, and our visitors in later days and in other places punctuate their paragraphs.
---
December 1911
The Borough Councillors were in two minds with regards to cows grazing on the streets. Mayor Dickinson would allow cows to graze in the outlying streets but Councillor Potts objected saying, "Some cows were so cunning that they were able to open gates". It was decided in order to keep the grass down that cows (but not horses) could graze on the streets between 6pm and 6am.
Mr H Riley, the tailor tells us, "Our craftsmen's fingers are nimbly working at a number of orders".
Finally the Council got a £250 Coronation Subsidy from the government towards a swimming pool. The Moon Creek site (near the gasworks) was all go. But surely a more central site could be found? Opposite the primary school on Duke Street and Thornton Road opposite Grosvenor Street were the new suggestions.
Mr F Bunyard was to be appointed supervisor of borough works. They needed one responsible man to have full control of their works and keep them abreast of what was going on. To engage and discharge workmen and report monthly to Council.
Death:
McCrea – On Saturday 2nd inst. At his residence, Hugh Gamble McCrea, aged 85 years. By request no mourning.
'Mr Jared Allwill left New Zealand recently, for Australia with the firm belief in the value of wireless telegraphy and, in pursuance in that belief, he made use of that marvellous means of communication during his run across the Tasman sea to Sydney. He handed in a message to be transmitted to his wife, informing her that he and their son were well, and having a good passage, and asking that the 'Independent' be so advised. On his return he was surprised and much annoyed, to find that the message had not been received by his wife. This at once caused his former faith in 'wireless' to vanish, and he wonders whereabouts in the ether the leak occurred.'
John Redgrave, born 25 December 1835 at Foshington Norfolk, a former navy man and 3rd Waikato Militia soldier, died 7 December 1911 aged 78 years. He had worked about the district and settled down on his Karapiro farm section earned by him for his military services.
9 December 1911 Louisa Redgrave age 86 years, who had shared the deprivations of early settlement in Cambridge with her late husband John Redgrave, also died.
J R S Richardson and son Arthur left on the splendid new steamer 'Remuera' for a short trip 'Home'.
Boston Couper sold 'The Anchorage' and ten acres on Thornton Road and bought the corner acre on Hamilton Road and Hall Street.
Mayor Geo Dickenson visited the capital in his civic capacity at the opening of the Town Hall there.
Polo in Cambridge was thriving at 'Bardowie'. Two teams played off – H Crowther, I Taylor, C Peake, F Vosper and W Hunter against C Meredith, J Banks, M Wells and F Reynolds. The result was a draw. It was stated that a pavilion and grandstand were to be erected for the accommodation of the ladies.
Two Cambridge students attending King's College got on the honours list. Master J F McCullagh gained first place in Form IVa and master H M Hammond carried off the special prize for elocution.
J Murrell wanted to buy 20 turkeys – at once.
E J Wilkinson was looking for 3 young ladies to assist in his shop on Xmas Eve.
Sam Lewis notified clients he was taking over W F Buckland's practice and moving to the Legal Chambers in Duke Street after the holidays.
This afternoon Miss Kathleen Willis, youngest daughter of Ven. Archdeacon and Mrs Willis, married Rev Francis G Harvie of Auckland.
A fire in a King Street home left Mr H C Robson, his wife and children with only their night attire and blankets. The house belonged to J La Trobe.
At the local court Ellen Campbell was awarded £1 16s for milk supplied to J K Pierce. A fencing case between W Cowling and W Hickey was settled out of court. James Mitchell was charged with assaulting J B Norris at Taotaoroa and was fined £6 and £2 2s costs.
A fine stable, store room, feed room and man's quarters were totally destroyed by fire at Te Waikato Sanatorium. A bucket brigade of patients and nurses were successful in saving the engine house although the wires were all fused.
Maata Te Ao, widow of Te Kooti, residing near the Kanakanara bridge, Te Karaka, died somewhat suddenly yesterday afternoon. She was a chieftainess of the Meaihanga Mahaka tribe and cousin to Wi Pere.
The Australasian Christian Students' Union held their conference in Cambridge and was attended by over 100 students. Outside events were cancelled as it rained and rained.