Collections
Our Cambridge Collection has changing exhibitions about Cambridge.  Much of our collection is in storage to ensure its preservation for future generations.
Waikato Advocate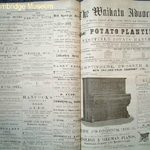 James Shiner Bond started the Waikato Advocate in 1895, but after six months he moved his plant to Hamilton and bought the Waikato Times.
The Cambridge Museum holds copies of the Waikato Advocate for the six months from July to December 1895. Names and subjects relevant to Cambridge have been indexed.
If you find someone or something of interest in this index click here to contact us with as much relevant detail as possible.
Our research fees are here.
A B C D E F G H I J K L M N O P Q R S T U V W X Y Z
| | |
| --- | --- |
| A | |
| ABRAHAMS | |
| ADAMS S | |
| ALLEN Edward | |
| ALLEN W S | |
| ALLEY Miss | |
| ALLWILL Jared | |
| ANDERSON D | |
| ANDERSON G R | |
| ANDERSON Jas | |
| ANDERSON M | |
| ANDERSON Miss | |
| ARCHER E Miss | |
| ARCHER F | |
| ARCHER George | |
| AREKATARA | |
| ARMER F | |
| ARMER Frank | |
| ARMER Mrs | |
| ARMSTRONG H | |
| ARNABOLDI J H G | |
| ARNOLD C W | |
| ARNOLD F | |
| ARNOLD John | |
| AUBIN | |
| AUSTIN A | |
| | |
| B | |
| BACH Arthur | |
| BACH Mrs | |
| BADHAM Miss | |
| BAILEY A | |
| BAILEY C | |
| BAILEY W | |
| BAIN J | |
| BALDWIN S | |
| BALLARD Geo | |
| BARRIBALD C T | |
| BARTLEY | |
| BARUGH J Jnr | |
| BARUGH Joseph | |
| BASSETT Miss | |
| BEERE E | |
| BELL A | |
| BELL H | |
| BELL J | |
| BELL Miss | |
| BELL Mrs H | |
| BELL R | |
| BLACK Agnes Miss | |
| BLACK William | |
| | |
| --- | --- |
| BLACKMAN A | |
| BLACKMORE J | |
| BOCKETT W / D | |
| BOND Fred | |
| BOND James Shiner | |
| BOND Mrs J S | |
| BOWDEN C | |
| BOWLEY F Miss | |
| BOYCE Ada Miss | |
| BOYCE Alice Miss | |
| BOYCE C | |
| BOYCE Mrs | |
| BOYD Kenneth | |
| BRENNAN Miss | |
| BRENNAN Percy | |
| BRENNAN Sydney | |
| BRENNAN William | |
| BRIDGMAN G | |
| BRIDGMAN J | |
| BRIDGMAN Richard Burden | |
| BRIGHT Miss | |
| BRINDLE Henry | |
| BRINDLE R | |
| BROCKELSBY E | |
| BROCKLEBY R | |
| BROOKS F J | |
| BROOKS Frank | |
| BROOKS Mrs | |
| BROOME | |
| BROOME Miss | |
| BROWN G | |
| BROWN John | |
| BROWNE J S | |
| BROWNE Miss | |
| BROWNE Robert | |
| BROWNE Thos H | |
| BRUCE | |
| BRUCE Miss | |
| BRUCE Mrs | |
| BRUNSKILL H R | |
| BUCKLAND C C | |
| BUCKLAND W F | |
| BULL | |
| BURNETT Miss | |
| BURNS J | |
| BUTCHER Miss | |
| BUTLER Martin | |
| BUTLER Miss | |
| BUTLER | |
| BUTTLE Henry | |
| | |
| --- | --- |
| | |
| C | |
| CALEY C | |
| CALEY D | |
| CALEY R | |
| CAMERON Sam | |
| CAREY Miss | |
| CARLEY Miss | |
| CARNACHAN | |
| CARR Mrs R | |
| CARR Mrs W | |
| CARR R | |
| CARR W T | |
| CARTER Mrs W | |
| CARTER W K | |
| CASE J | |
| CASEY Mary Miss | |
| CHAMBERS Jos | |
| CHAPPELL A | |
| CHITTY May Miss | |
| CHITTY Mrs | |
| CHITTY Walter | |
| CLARK A B | |
| CLARK G E | |
| CLARK H | |
| CLARK James | |
| CLARK Misses | |
| CLARK Mrs A B | |
| CLIFFEN Eleanor Miss | |
| CLIFFEN Susannah Miss | |
| COATES Isaac | |
| COLE George W | |
| COLEMAN | |
| COLEMAN Eileen Miss | |
| COLEMAN Mrs | |
| COLLINS Ernest | |
| COLLINS Godfrey jnr | |
| COLLINS Laura Miss | |
| COLLINS W J | |
| COMER B | |
| COMER G | |
| COOPER | |
| COTTER T | |
| COURTAYNE | |
| COWLING J | |
| COWLING Miss | |
| COX C | |
| COX E B | |
| CRAIG Chas | |
| CRAIG Kate Miss | |
| CRAIG Lottie Miss | |
| | |
| --- | --- |
| CRAIG Mrs | |
| CREAMER A W | |
| CREAMER Miss | |
| CREAMER Mrs | |
| CRICKET Mary Mrs | |
| CRICKET William | |
| CRICKETT R | |
| CROCKSFORD | |
| CROUCH C | |
| CRUICKSHANK J | |
| CUBIS A | |
| CUBIS B | |
| CUBIS H | |
| CUDWORTH Mrs | |
| CUSHNY Dr | |
| | |
| D | |
| DALGLIESH J | |
| DAVENPORT Ruth Miss | |
| DAVIDGE W T | |
| DAVIES Miss | |
| DAVIES Richard | |
| DAVIS C A | |
| DAY Cornelius | |
| DAY E | |
| DAY Miss | |
| DEAN J | |
| DEAN Miss | |
| DEAN W F | |
| DELANEY P G | |
| DENTON A | |
| DEVITT J | |
| DEVITT P | |
| DICK R | |
| DICKINSON Alma Miss | |
| DICKINSON Geo | |
| DILLON K Miss | |
| DILLON M | |
| DINSDALE Thos | |
| DIVER James | |
| DIVER Jane Miss | |
| DIVER May Miss | |
| DIXON Cecil | |
| DIXON Mrs W F | |
| DODD Arthur | |
| DODD Ellen Miss | |
| DODD George | |
| DODD W | |
| DOUGLAS W M | |
| DRURY E deC | |
| DYER R C | |
| | |
| --- | --- |
| DYER R W | |
| DYKES Miss | |
| | |
| E | |
| EDGECUMBE G | |
| EDSON J L | |
| EDWARDS A L | |
| EFFWERSON E | |
| ELLIOT F H | |
| ELLIOTT A | |
| EMPSON G W | |
| EMPSON Mrs | |
| EMPSON Stanley | |
| EMPSON Stella Miss | |
| ESCOTT William | |
| EVANS Miss | |
| EVANS W S | |
| EVANS William | |
| EWEN Chapman | |
| EWEN L B | |
| EWEN Mrs L B | |
| | |
| F | |
| FERGUSON Hugh | |
| FERGUSON John | |
| FERGUSON Mabel Miss | |
| FERGUSON Mrs Hugh | |
| FERGUSON Mrs John | |
| FISHER A W | |
| FISHER J Jnr | |
| FISHER J S | |
| FISHER J W | |
| FISHER John | |
| FISHER M Miss | |
| FISHER Miss | |
| FISHER Miss | |
| FISHER Mrs E | |
| FISHER Mrs Robert | |
| FISHER Robert | |
| FISHER Robert cont | |
| FITZGERALD H | |
| FITZGERALD Kate Miss | |
| FITZPATRICK | |
| FLETCHER Louisa Rebecca | |
| FLETCHER S | |
| FLOYD T | |
| FOGARTY P | |
| FOGARTY W | |
| FORREST A | |
| FORREST G Miss | |
| FORREST James | |
| FORREST R Miss | |
| | |
| --- | --- |
| FREEMAN R | |
| | |
| G | |
| GALBRAITH William | |
| GANE Alfred | |
| GANE Joseph | |
| GANE M Miss | |
| GANE Mrs | |
| GANE Mrs A | |
| GARDINER J | |
| GARLAND B | |
| GARLAND Miss | |
| GEMMILL J | |
| GEMMILL S Miss | |
| GEMMILL Thos | |
| GERRISH S | |
| GIFFNEY Miss | |
| GILES | |
| GILES G | |
| GILES Miss | |
| GILLETT Henry | |
| GLEESON M | |
| GLEESON Miss | |
| GLENN Miss | |
| GORDON J | |
| GRAHAM J J | |
| GRAHAM W A | |
| GREEN H | |
| GREY | |
| GRICE James | |
| GRICE Richard | |
| GRIFFITHS Miss | |
| GROOM Miss | |
| | |
| H | |
| HALL Mrs John | |
| HALL Robert | |
| HALLY James | |
| HALLY John | |
| HALLY Minnie Miss | |
| HALLY Mrs John | |
| HAMILTON James | |
| HANKINS A Miss | |
| HANLIN | |
| HANNON Mrs | |
| HANNON R | |
| HARKER J B | |
| HARKER S | |
| HARRIS J | |
| HARRIS W J | |
| HARRISON M | |
| HARTLY Thos | |
| | |
| --- | --- |
| HARVEY E | |
| HAY Miss | |
| HAYWARD F H | |
| HAYWARD Fred W | |
| HEANEY | |
| HEASLIP Robert | |
| HEATHER H | |
| HEMUS | |
| HENDERSON Allan | |
| HENNING G | |
| HENSON George | |
| HENSON Sam | |
| HERRIES W H | |
| HEWITT E | |
| HEWITT Miss | |
| HICKEY D | |
| HICKEY Katie Miss | |
| HICKEY Miss | |
| HICKEY W | |
| HICKS F | |
| HICKS F Miss | |
| HICKS T | |
| HICKS T A | |
| HICKS T W | |
| HILL A C | |
| HILL R | |
| HINE A R | |
| HJORTH L Miss | |
| HJORTH W | |
| HOGAN W | |
| HONAN A Miss | |
| HOOPER Miss | |
| HOSKING G F | |
| HOUGHTON | |
| HOWARD Miss | |
| HOWARD S | |
| HOWE Jesse | |
| HUDSON L Rev | |
| HUDSON Lewis | |
| HUDSON Mrs | |
| HUDSON Winnifred Miss | |
| HUME Miss | |
| HUNT F Miss | |
| HUNT N I | |
| HUNT P | |
| HUNT S | |
| HUNT Sara Miss | |
| HUNT Sybil Miss | |
| HUNTER C | |
| HUNTER Mrs C | |
| | |
| --- | --- |
| HUNTER W J | |
| HUNTER Wallace | |
| HUSTWICK Miss | |
| HUTCHINSON Harry | |
| HUTCHINSON John | |
| | |
| I | |
| INGLIS J Miss | |
| INNIS C L | |
| IRVINE | |
| IRVING | |
| | |
| J | |
| JACKSON H | |
| JAMES Miss | |
| JARRETT C | |
| JOHNS W | |
| JOHNSTONE Mrs James | |
| JONES | |
| | |
| K | |
| KALLANDER H J | |
| KARL A | |
| KAY Miss | |
| KEELEY (Mrs F) | |
| KEELEY C | |
| KEELEY F | |
| KEELEY Giles | |
| KEELEY Miss | |
| KEELY F | |
| KELLY B | |
| KELLY G | |
| KELLY R | |
| KERR E | |
| KERR Frank | |
| KERR Harry | |
| KERR Innis | |
| KERR Katie Miss | |
| KERR Martin | |
| KERR Mrs R | |
| KERR Mrs W | |
| KERR R | |
| KEYS Miss | |
| KILY Miss | |
| KINCAID Archibald | |
| KINCAID W | |
| KINCAID Willie | |
| KINGDON D | |
| KINGDON Jonathan | |
| KINGDON P J | |
| KINGSFORD H | |
| KINGSFORD Miss | |
| KIRKWOOD Robert | |
| | |
| --- | --- |
| KNIGHT Mrs | |
| KROGMANN Charlotte Miss | |
| KUSABS Bros | |
| | |
| L | |
| LAKE C | |
| LAKE E | |
| LAKE Jessen | |
| LAMB H | |
| LAMB Joseph R | |
| LANG F W | |
| LARNEY N A | |
| LAURIE W S | |
| LAWSON Sam | |
| LEE Nam & Co | |
| LeQUESNE C | |
| LeQUESNE P | |
| LOCKLEY B | |
| LOOKER Joseph | |
| LOW J | |
| LOWE Mrs | |
| LUSK H B | |
| LUSK H G | |
| LYNCH Miss | |
| LYNCH Mrs | |
| LYNCH W | |
| | |
| M | |
| MacDOUGALL S H | |
| MACK Ethel Miss | |
| MACKAY James | |
| MACLEAN Every | |
| MADIGAN F | |
| MADIGAN Laura Miss | |
| MADIGAN Miss | |
| MADIGAN Mrs | |
| MAHON H | |
| MAHOOD George | |
| MAIN Robert | |
| MAIN W | |
| MANDENO M Miss | |
| MANN Alice Miss | |
| MANN Emily Miss | |
| MANN Ethel Miss | |
| MANN George | |
| MARSHALL C P | |
| MARSHALL E J | |
| MARTYN (Late W L) | |
| MARTYN John | |
| MARTYN Mrs J | |
| MASTER | |
| McCAW John | |
| | |
| --- | --- |
| McCOMISH Andrew | |
| McCOMISH J | |
| McCREA H G | |
| McCULLAGH G F | |
| McCULLAM C | |
| McDERMOTT M | |
| McFARLANE A | |
| McFARLANE Alice Miss | |
| McFARLANE Bella Miss | |
| McFARLANE Eva Miss | |
| McFARLANE Miss | |
| McFARLANE T Miss | |
| McFARLANE W | |
| McGRATH Miss | |
| McINDOE Miss | |
| McKEAN J | |
| McKEARNEY A | |
| McKERNAN J | |
| McKINNON A | |
| McLAREN D | |
| McLIESH James | |
| McMAHON Ellen Miss | |
| McMAHON Ellen Miss | |
| McMILLAN William | |
| McNEISH Alice Miss | |
| McNEISH Arthur | |
| McNEISH J | |
| McNEISH James | |
| McNEISH Louie Miss | |
| McNICOL & Co | |
| McNICOL Duncan | |
| McPHERSON James | |
| McVEAGH Augustine | |
| McVEAGH R | |
| MEARS R | |
| MEDHURST Elizabeth Miss | |
| MEDHURST Lucy Miss | |
| MEDHURST Mary Miss | |
| MEREDITH Jas | |
| MERRICK J W | |
| MILLAR F Miss | |
| MITCHELL W H | |
| MOISLEY L Miss | |
| MOISLEY W | |
| MOISLEY William | |
| MORGAN J D P | |
| MORRISON K | |
| MORSE Frank | |
| MORSE Robert | |
| MULLINS Edith Miss | |
| | |
| --- | --- |
| MULLINS Ernest | |
| MUNRO | |
| MURPHY Patrick Desmond | |
| | |
| N | |
| NASH A | |
| NASH E O | |
| NEAL Geo J | |
| NEAL L Miss | |
| NEWCOMBE H | |
| NICKLE Miss | |
| NICOL J | |
| NICOLS | |
| NIXON C | |
| NIXON Ivy Miss | |
| NIXON Miss | |
| NIXON Thomas | |
| NORK J | |
| NORRISH R | |
| | |
| O | |
| ONIONS Edith Miss | |
| O'TOOLE | |
| | |
| P | |
| PARK W G | |
| PARKER E J | |
| PARKER G | |
| PAYZE Charles | |
| PAYZE Edgar | |
| PAYZE Hilda Miss | |
| PEARSON | |
| PEEK T N | |
| PEIRCE W | |
| PENNELL P | |
| PENNELL T | |
| PEPPERCORN H | |
| PEPPERCORN J | |
| PEPPERCORN P | |
| PERCY C W | |
| PERKINS | |
| PICKERING M H | |
| PIERCE J K | |
| PIERCE William | |
| PILCHER F | |
| PILCHER Mrs | |
| PILCHER Phyllis Miss | |
| PILKINGTON A J | |
| PILKINGTON W W | |
| PILLING Mrs E H | |
| PILLING Mrs F | |
| PLECHER F | |
| PLESCHER V | |
| | |
| --- | --- |
| POOLE R S | |
| POPPLE Arthur | |
| POPPLE F | |
| POPPLE Mrs | |
| POTTERTON Charles | |
| PREECE H | |
| PREISTLEY Miss | |
| PRETTY A Miss | |
| PRETTY Rosie Miss | |
| PRIESTLEY J H | |
| PRITT | |
| PURDIE C W S jnr | |
| | |
| Q | |
| QUICK W H / M H | |
| | |
| R | |
| RADFORD J S | |
| RADFORD Misses | |
| RADFORD T | |
| RATHBONE Miss | |
| RATHBORNE E | |
| REEVE Ernest | |
| REEVES Florrie Miss | |
| REEVES Miss | |
| REID James | |
| RENELL Herbert | |
| Reynolds & Co Creameries | |
| REYNOLDS E | |
| REYNOLDS Henry | |
| REYNOLDS M Miss | |
| REYNOLDS Mrs S | |
| REYNOLDS Richard | |
| RICHARDSON J R S | |
| RICHARDSON Robert | |
| RILEY W | |
| ROBERTS Aimee Miss | |
| ROBERTS C | |
| ROBERTS Ella Miss | |
| ROBERTS M | |
| ROBERTS Miss | |
| ROBERTS T | |
| ROBERTSON George | |
| ROBERTSON John | |
| ROGERS H | |
| ROSE Ada Miss | |
| ROSKRUGE Miss | |
| ROSKRUGE Mrs | |
| ROSS D | |
| ROUT W | |
| ROWE Mildred Miss | |
| ROWE Olivia Miss | |
| | |
| --- | --- |
| RUNCIMAN G A | |
| RUNCIMAN James | |
| RUSSELL Agnes Miss | |
| RUSSELL James | |
| RUSSELL W | |
| RUTHERFORD C O F/T | |
| RYAN M Miss | |
| | |
| S | |
| SALMON J C | |
| SANDALL E G | |
| SANDERS Elsie Miss | |
| SANDERS Hilda Miss | |
| SARE G W | |
| SCARBOROUGH | |
| SCOTT Bessie Miss | |
| SCOTT J | |
| SCOTT J H | |
| SCOTT Nettie Miss | |
| SCOTT W | |
| SEABROOKE | |
| SEARLE W J | |
| SEDDON F R | |
| SEDDON S T | |
| SEDDON Samuel | |
| SELBY B | |
| SELBY K Miss | |
| SELBY Mable Miss | |
| SEYMOUR Mrs | |
| SHARKEY John | |
| SHARKEY William | |
| SHARP Ella Miss | |
| SHARP John | |
| SHARP Martha Miss | |
| SHAW C | |
| SHEPHERD May Miss | |
| SHORTT Miss | |
| SIMMELHAG J | |
| SIMMONDS W | |
| SIMPSON E B | |
| SIMPSON Thos W | |
| SLADE T | |
| SLOANE Miss | |
| SMALE P Miss | |
| SMART | |
| SMITH Greville | |
| SMITH J W | |
| SMITH S E G | |
| SMITH T J | |
| SMITH Thos W | |
| SOUTER A | |
SWAYNE Minnie
| | |
| --- | --- |
| SOUTER W | |
| SOUTER W J | |
| SOUTHGATE Miss | |
| SPEAKE R G | |
| SPENCER Mrs | |
| STEELE S | |
| STEWART C | (See STUART) |
| STEWART D | |
| STEWART Ernest | |
| STEWART Herbert | |
| STEWART Horrace | |
| STEWART J | |
| STEWART J Miss | |
| STEWART Mrs | |
| STONE H J | |
| STOREY A J | |
| STOREY C J | |
| STOREY Charles | |
| STOREY Joe | |
| STOREY Miss | |
| STUART Alice Miss | |
| STUART C | |
| STUART Ethel Miss | |
| STUART William | |
| STUBBING D | |
| STUBBING M | |
| STURGES | |
| SWAYNE Blanche | |
| SWAYNE Ethel | |
| SWAYNE Leonard | |
| SWAYNE Minne | |
| | |
| T | |
| TAYLOR (Mrs J) | |
| TAYLOR James | |
| TAYLOR W | |
| TAYLOR W J | |
| Te NGAKAU | |
| TEAGUE John | |
| TENNENT C | |
| THOMAS W H | |
| THORNTON Mrs | |
| THORNTON W T | |
| TONGE Miss | |
| TRAFFORD Mrs | |
| TRUBSHAW Miss | |
| TRUBSHAW W J | |
| TRUST Louisa Miss | |
| TUCK C | |
| TUCK George | |
| TUCK Jeannie Miss | |
| | |
| --- | --- |
| TUCK W | |
| TUCKER H | |
| TUCKER Miss | |
| TUCKER W | |
| | |
| V | |
| VERCOE Miss | |
| VICKERS H | |
| VICKERS Joseph | |
| VICKERS T | |
| VICKERS William | |
| VOSPER | |
| | |
| W | |
| WADDINGTON | |
| WALKER E B | |
| WALKER George | |
| WALKER James | |
| WALKER L Miss | |
| WALKER Miss | |
| WALKER R | |
| WALKER Rhoda Miss | |
| WALKER T | |
| WALLACE A | |
| WALLACE James | |
| WALLACE M Miss | |
| WALLACE W | |
| WALNUTT C | |
| WALNUTT Miss | |
| WARD J G | |
| WARD Miss | |
| WARNER S | |
| WATT Ellen Miss | |
| WATT G W | |
| WATT George | |
| WATT J | |
| WATT Mary Miss | |
| WATTAM Thomas | |
| WATTS G | |
| WAY G | |
| WEBBER Florence Miss | |
| WEBBER George | |
| WEBBER John | |
| WEBBER Mrs H | |
| WELLS Hilda Miss | |
| WELLS Thomas | |
| WEST William | |
| WESTBY | |
| WESTBY Georgina Miss | |
| WEYMAN George | |
| WHEWELL | |
| WHITAKER Mrs | |
| | |
| --- | --- |
| WHITE T H | |
| WHITE W | |
| WILDERMOTH Mrs | |
| WILKINSON & Co | |
| WILKINSON George | |
| WILLIAMS A Miss | |
| WILLIS Effie Miss | |
| WILLIS Mrs | |
| WILLIS Wm N deL | |
| WILLOUGHBY | |
| WILSON (Late Mrs J) | |
| WILSON J Miss | |
| WILSON S | |
| WILSON W | |
| WINDSOR H | |
| WOODROFFE T E | |
| WRIGHT Arley Miss | |
| WRIGHT Dudley | |
| WRIGHT Eveline Miss | |
| WRIGHT Torrens | |
| WRIGHT W H | |
| WYLDE-BROWNE Miss | |
| | |
| Y | |
| YATE Mrs | |
| YOUNG A | |
| YOUNG Edward | |
| YOUNG Emily Miss | |
| YOUNG J A | |
| YOUNG Jas | |
| YOUNG Kathleen Miss | |
| YOUNG Louisa Miss | |
| YOUNG Mrs W J | |
| YOUNG N Miss | |
Researched and written by Eris Parker
Ref: Cambridge Museum Archives