Collections
Our Cambridge Collection has changing exhibitions about Cambridge.  Much of our collection is in storage to ensure its preservation for future generations.
Post Masters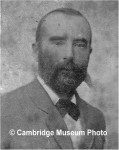 When the 3rd Waikato Militia arrived in 1864 the Cambridge Post Office was one of 89 new offices established in the colony.
The first Post Master – John Henry Wilkinson – was born in Middlewick, Cheshire, England. On completion of his medical training at Guy's Hospital, London and on receipt of a legacy from an aunt, he went on a world tour. He had just landed from the sailing ship 'Queen ' from Sydney on 30 December 1863 when he enlisted in the 3rd Waikato Militia in a response to a call for volunteers. His regimental number was 1417 and he was promoted to Corporal on 18 August 1864.
John was the Cambridge Post Master from 8 September 1864 until 30 June 1868.
At the end of hostilities he was granted his land, section 380 in Cambridge and sections 137 and 142 in the surrounding country where he remained as an armed settler for some years. But on the death of his mother, family business called and he returned to England to take over the Rockingham Chinaworks, which he inherited from her. He never practised his medical profession.
[Ref. 'First Families' by Ruth Wilkinson 1972.]
Theodore B Keale was born c1832 in St Lukes, Middlesex, England and was married in 1856 in New Zealand to Emma Day. He enlisted in the 3rd Waikato Militia in Otahuhu on 21 January 1864, Regt. No. 1308, and his occupation was given as a labourer.
The Post Office was in the Orderly Room of the Ten Star Redoubt when Theodore took over as Post Master on 1 July 1865. He was arrested in October for feloniously detaining post letters but as the room was used for various purposes – the men went there on muster days for their arms and accoutrements – the charges were dismissed.
The day after the court case Theodore was found at the bottom of the cliff in Hobson Street, Auckland. He died from his injuries at the Auckland Hospital on 9 December 1865.
Stuart Newall was born in Dumfries, Scotland in 1843 and he arrived in New Zealand, via the gold mines of Australia. He enlisted in the 3rd Waikato Militia on 2 December 1863 at Dunedin when his occupation was a draper. Colour Sergeant Newall arrived in Cambridge when it was a fern-covered wilderness and he was gazetted Post Master on 12 October 1865. He ran the office from his house in Chapel Street until November 1866.
Stuart was married on 12 March 1872 to Georgina Roberts and one of their daughters, Jessie Georgina was buried in the Cambridge Cemetery in May 1879.
Stuart joined the Armed Constabulary, making a major contribution to road and bridge construction in the area. He transferred to the defence force in 1883 and was promoted to Lieutenant Colonel in January 1891. He commanded the 5th New Zealand Contingent in the South African War and on his return was awarded the D.S.O. He died 3 August 1919.
Robert Ward was born in Norfolk c1838 and enlisted in the 3rd Waikato Militia as a substitute soldier on 26 July 1866 in Cambridge. His regiment number was private 1720 and his occupation was a storekeeper. He became the Manager of Philip Lempriere's Store on Barracks Street.
Robert was gazetted the Post Master at Cambridge, 1 December 1866.
The next year the townsfolk petitioned the Chief Postmaster for a bi-weekly mail service between Cambridge and Auckland.
On 15 July 1867, when Robert was proposed for the Duke of Cambridge Lodge, his occupation was a draper grocer and he was aged 31 years.
The Post Office Savings Bank system was begun in the colony in 1867 and a savings bank was opened in Cambridge. The first deposit – £3 – was made in May.
On the Cambridge Rates Assessment list for 1869-1870 Robert Ward paid 2 pence an acre on 102 acres – totalling 17 shillings. He continued to appear on the local electoral roll until 1877.
The Post Office was established in Victoria Street where Mr Joseph Marshall was the official Post Master from 1 July 1868 to 30 April 1869.
Edward Brown Reynolds was born in Chippenham c1848 and married in Auckland, New Zealand on 22 January 1870 to Christina Savory. In an assessment list at Wellington Archives, Edward is shown as occupying 4 acres in Alpha Street and later Electoral Rolls recorded he had one of these acres as a freehold.
Edward was Post Master in Cambridge from 1 May 1869 until 31 December 1879 when he made a trip to England. Then, on 1 October 1880, he was appointed Post Master again.
Three children – Alice baptised 1871, Edward baptised 1873 and Kate – were enrolled at the Cambridge Primary School in 1881 and 1882. In August 1882 they left for Auckland West School. Mary Ann was born in Cambridge on 14 June 1877.
E B Reynolds served as Post Master until 30 October 1882 when he again left for England. Family lore says he was never heard from again.
A new building was opened on the adjoining site in Victoria Street in April 1877, built by Edward Messages for £463 10s.
Albert Benner had worked in the post office in Ireland before coming to New Zealand in 1874. He took over from E B Reynolds during his absence from 1 January to 30 September 1880.
John Edward Hawley was Post Master from 1 October 1882 until 30 November 1884.
The Waikato Times of 31 July 1883 reports – 'The business public and residents of Cambridge have been granted a postal delivery of letters once a day. This want has been experienced for some time. The large crowd that have for evening after evening gathered at the Post Office waiting for the mail to be sorted will now be considerably thinned, and instead of having to wait, will now be waited upon.'
John Bull was born 1843 and joined the postal service at Lyttleton in 1863. He was Post Master in Cambridge from 1 December 1884 until 30 April 1889. In 1895 he was in Tauranga where he married Mary Josephine Tunks. In December that year he transferred to Blenheim and he retired to Tauranga on a pension in November 1902.
Thomas Robert Samuel Hester was born in London in 1853 and came to New Zealand with his parents on the 'Sir Edward Paget' in 1856. He entered the Telegraph Department aged 13 years and married Kate nee Monk in 1878.
They came to Cambridge from the Hawkes Bay and Thomas was Post Master from 1 May 1889 until 31 March 1895.
Their three children – Percival, Linda and Audrey – went to Cambridge Primary School and left in 1895 for Kaiapoi. Kate (Thomas' wife) was registered on the 1893 Electoral Roll.
George Augustus Empson was born in Blenheim and married Jane Hughes in 1879. They had four children – Jane Louisa, Stanley Arnold, Stella Vera and George Gordon who all attended Cambridge Primary School and joined the Cambridge social scene. George was Post Master in Cambridge from 1 April 1895 until 31 January 1900 when he transferred to Rotorua.
Henry Jeffries was born in 1848 in Norfolk and arrived in Nelson on the 'Magnum Bonun' in 1863. He married Martha Caroline Chapple in 1882 and they had four children. Henry became a Post Master in November 1873 and arrived in Cambridge on 1 February 1900.
The building in Victoria Street had been enlarged from time to time. It included a postal and operating room, there were thirty private boxes, and the postmaster's residence of six rooms.
In August 1907 a direct telephone line was opened between Cambridge, Hamilton and Auckland and the staff numbers rose to nine.
A new Post Office was opened 15 February 1908 at a cost of £2,964.
Henry was involved with the Camera Club, his son was a member of the Duke of Cambridge Lodge and his daughter was keen on tennis and shooting. Miss Jeffries was the driver of the first car to cross the new Victoria Bridge when it was completed in December 1907. (Henry had bought a 12h.p. Darracq.)
After 36 years with the Post Office Henry retired on 8 August 1909 and bought a farm at Kaiotahi. Mrs Jeffries was presented with a silver preserve dish on behalf of the Chess Club for her thoughtfulness towards them at telephone matches with Hamilton. From her lady friends she received a silver hot water jug and Miss Jeffries received a silver serviette ring.
William C McDermott, from Foxton, was gazetted Post Master for Cambridge, 9 August 1909. At the beginning of November 1909 he returned to New Zealand from Australia on the 'Victoria' and introduced his new bride to Cambridge.
William was most helpful and endeared himself to the country residents as they vied for rural postal deliveries and telephone connections.
When William resigned on 23 November 1913 he had been with the service for 38 years. Before the family moved to Australia they were presented with a purse of sovereigns and an address –
' On the occasion of your retirement from the public service of the Dominion of N.Z., the residents of Cambridge and the district tender to you their appreciation of the eminently courteous and tactful manner with which you have discharged your duties as Postmaster during your four years' residence in Cambridge. You have always been willing to promote the interests of the district by assisting to develop postal and telephonic facilities, and both as a Government official and a citizen you have earned the respect and esteem of the people. The wish is sincere that you may be spared many years to enjoy in private life well merited leisure and your friends in Cambridge trust that good health, happiness, and success will attend your future days. Signed on behalf of the subscribers :
M Wells, H W Sleddon, G Clark, Martin Butler, S Lewis, C H Priestley.'
William took with him a photo of the post office staff.
Alexander Dougal Clemett was born in Ballarat, Australia in 1857 and joined the Post & Telegraph Department in 1876 at Wanganui where he was telegraphist for four years. He was transferred to the north as Post Master of various offices, including Ohaupo. He came to Cambridge from Foxton and took up duties 24 November 1913 with a staff of twelve.
There were 204 subscribers to the telephone exchange with bureaux at Horahora (Aniwaniwa), Kaipaki, Karapiro, Leamington, Maungatautari and Tamahere.
After three and a half years Arthur retired from the department, with no black marks recorded against him, on 11 June 1917. The local staff presented him with a valuable fountain pen and an umbrella.
William Nelson Poole was married in 1889 to Emma Louisa Lloyd. They moved to the Kumara post office where they brought up their three daughters before transferring to Kaiapoi. From there they came to Cambridge on 12 June 1917.
William was a prominent athlete and continued his love of bowls when he came to Cambridge. He retired 22 July 1921 because of ill-health and the family spent some time in Tauranga before going to Auckland. William died February 1931.
William McAllister was gazetted Post Master of Cambridge 23 July 1921 when the town had 519 subscribers on the exchange. The family arrived from Blenheim and William took up duties 12 September 1921.
William was promoted to the Feilding Post Office, and the family left at the end of June 1924. The staff gave William a case of Loewe pipes and the Borough Council expressed their regret at the leaving of such an efficient officer, but congratulated him on his promotion and wished the family happiness and prosperity.
John Calder Allan was born in Balclutha and joined the Post & Telegraph Department as a messenger. He married in April 1914 to Mabel Eastwood of Wanganui and they had two sons. John was posted to Hamilton, Hastings, Wellington and Ngaruawahia before being transferred to Cambridge on 17 July 1924. During this time new services were provided by the Post Office – motor registration and radio licensing.
At a Chamber of Commerce Social Evening Mr Allan was reported as saying –
'Cambridge must have a very live, up to date Chamber, judging by the postal facilities they enjoyed here. Cambridge had one of the largest rural deliveries (350 rural boxes) in the Dominion, and as regards mails had facilities such as no other town of its size in the Dominion.' Speaking with a good deal of experience in many parts of the Dominion, Mr Allan said 'Cambridge was a beautiful and most progressive town, and compared most favourably with any other town of its size in the Dominion.'
As the depression deepened the Post Office issued boots and blankets to the unemployed.
Towards the end of 1931 the Post Office tower, which housed the town clock, was dismantled.
On 31 October 1933 John Allan retired on superannuation and became the first Bursar of St Peters School. The family remained in Cambridge and John died 17 September 1963 and Mable 1974.
William Drake was born 1884 in Tirau and joined the Post & Telegraph in 1897. He served as Post Master at Sunmer, Waiuku, Papatoetoe, Otahuhu and Newton before coming to Cambridge on 23 November 1933. He was married with a daughter and two sons.
At the beginning of 1936 the tender of the local firm, Speight, Pearce, Nicoll & Davys, was accepted for extensive alterations to the Post Office building. Mr Drake and family moved to a private residence to allow the whole building to be utilised for post and telegraph business.
After 40 years with the Post & Telegraph William retired on superannuation, 30 December 1936. He was farewelled by the staff with a leather travelling case. On the outbreak of the Second World War he joined the Censorship Branch and died in late 1952 at St Heliers Auckland.
Charles Burton McNatty married Wilhelmina Ramsay in 1926. They arrived from the south, taking over from acting Post Master D R Cowatt on 6 February 1937.
In May of 1938 Stapleton & Rolfe's tender was accepted for the Post Master's House in Wilson Street.
Both Mr and Mrs McNatty were keen golf players and also enjoyed bowls and tennis. Charles was transferred to Hamilton as deputy Post Master 8 September 1940 and presented with a leather engraved bowling bag from the staff. Two years later he transferred to Wanganui.
H Hawke was from Waipawa and took over from reliever, T Steel, on 16 November 1940. He arrived in Cambridge with his wife and one daughter who was on leave from Otago University.
Mr Hawke had started as a message boy in Greyton at 10 shillings for a 60 hour week. His four years in Cambridge were over one of the most difficult periods in the history of the country – World War Two. On his leaving, the staff gave Mr Walden a full dinner set in recognition of his business tact, attention to duties, kindly personality and trust and respect of the people. Both Mr and Mrs Hawke had been good friends to all the staff.
On 20 September 1944 Mr Hawke retired to Hamilton on superannuation after forty years with the department.
H L Waldon came from Otahuhu and took over duties from reliever, J L Clarke, on 25 November 1944. He left on 10 October 1945 on a promotion to Post Master at Rotorua and the staff presented Mr and Mrs Waldon with a mirror and best wishes.
G W Kite took up duties on 12 October 1945 and shortly after farewelled the women who had taken on the war-time appointments while the men served in the Second World War. He said, "The work of these girls was of the highest standard and I cannot say too much in praise of them."
He left for Dannevirke on 16 July 1947.
Harvey Colin Wood started with the Department in February 1912 at Russell and then was a cadet in Cambridge in 1915 when A D Clemett was postmaster.
At that time the mail arrived three times a day by train and the rural delivery at Roto-o-rangi was done with a horse and long shafted gig and Fencourt was done on a motorbike and sidecar.
After serving in World War One for 2½ years he was stationed at Kaitaia, then to Cambridge again as a telegraphist in 1923 for 17 years. He married Jean McCullagh in 1924 and they had three children.
Colin was promoted to Post Master and they left for Waipu – then returned to Cambridge from Waitara a few years later on 17 July 1947. Colin remained at Cambridge as Post Master until December 1953 when he retired on superannuation to St Heliers in Auckland.
The Scouts presented them with a book 'The Story of the Kauri'; the RSA gave a travelling shaving kit; the Chamber of Commerce gave a crystal bowl.
Hugh Robert Pascoe married Lilian Woodhead in 1924. On 29 December 1953 they arrived in Cambridge when Hugh took over as Post Master. During his time he outlined the work of the Post & Telegraph to Cambridge Rotary members – Registrar of Births, Marriages and Deaths; Registrar of Electors; agent for Department of Inland Revenue; payer of Social Security benifits; registration of over half a million motor vehicles (in NZ); collects fees for Marine Department and Customs; keeps weather records; collects half a million radio license fees; rent for State Advances; and registration of fowl runs.
On 15 November 1954 the family left on transfer to Blenheim with Hugh saying, "Cambridge is the best place I have ever been in and some day we will be back again."
George David White spent 25 years with the Post & Telegraph Department at Opotiki then moved about as Post Master until he arrived in Cambridge from Te Puke on 7 December 1954 – at the height of the Christmas rush.
The 40 inside staff members were all working long hours and eight boys had been employed to help with sorting and delivery of the mail. Christmas cards were more popular than ever and created a great demand on the 1½d stamp – although many people preferred to use the 2d Health Stamp. Two additional girls were employed on the telephone exchange but there were still delays in securing toll calls to Hamilton and Auckland.
Mr and Mrs White had three children and they left on promotion, 15 November 1955, for Blenheim.
William David Jesse Hay took over from reliever, E Hammonds, on 31 January 1956. He was born in Clinton, South Otago and started his career there in 1915. His previous appointment was at Carterton. He married Mary Catherine Kearins in 1926 and arrived in Cambridge with a grown up family. Miss Maureen Hay joined the exchange staff.
After two years in Cambridge, William was farewelled on Christmas Eve 1957 when he retired from just over 43 years' service.
Mervyn Rupert Mildon married Jewel Hayes in 1950. He arrived in Cambridge 3 February 1958 from Eltham taking over from reliever, K Whitelaw.
A year later on 12 February 1959 he was transferred to Levin.
William Shore Ogier was born in Waitara and spent all his school days in Taranaki. His previous experience was with the inspection division of the GPO in Wellington before Post Master at Inglewood.
William was married in 1934 to Mary D'Ath and they had four children. William saw active service with the Divisional Signallers attached to the artillery serving through the Italian campaign in World War Two.
They arrived in Cambridge on 2 April 1959 and the following year the automatic telephone exchange was installed in Cambridge.
William transferred on promotion to Hawera 15 August 1960.
C R Porter was married with two sons when they arrived in Cambridge on 19 September 1960 from Kaikohe. Colin did relieving duty at various offices during the year he was in Cambridge and was transferred on promotion to Taumarunui on 24 October 1961. They were presented with an electric kettle from the staff.
By this time, Cambridge Telephone Exchange had 2,590 subscribers.
Colin Robert Bulman's hometown was Riverton, at the southern end of the South Island. He was married in 1942 to Leila Weir and served in the Pacific during World War Two with the Signal Corp of 3rd Divisional Headquarters. They had two children and arrived in Cambridge 8 January 1962 from Temuka, taking over from acting Post Master, Stan J Williams. This was their first time in the North Island and happily joined in golf, Rotary, RSA, Women's Division and Plunket.
Improvements were carried out at the Post Office at the end of 1962, when the layout was altered to cope with increased business in the savings bank department. Withdrawals could now be made immediately and no longer were people required to stand to one side waiting for their names to be called out.
The 172 private postal boxes were increased by a further 110.
The upstairs (formerly the telephone exchange) was converted into a staff recreation area.
On 26 May 1964 Colin was promoted to Stratford and they retired two years later to Tauranga. Colin died in July 1982.
Cornelius Patrick Casey was married in 1945 to Helen Dally after serving overseas in World War Two. He came to Cambridge with his wife and daughter, taking over from acting Post Master, S J Williams, on 29 July 1964.
In an address to Rotary in April 1965 Mr Casey emphasised the multitude of staff and improvements in communication provided by the Post Office. The 'phone now in easy reach; International Tel-ex service linking 40 countries; transmitting news by tape and the radio photograph service; assigning frequencies to transmitters and vehicles and, as well as radio licences, television licences.
The Caseys were farewelled by the staff and presented with a coffee table when transferred to Morrinsville on 17 January 1967.
Vernon John 'Peter' Lee originally came from Gisborne and was married in 1951 to Alison Clark of Opotiki. They arrived in Cambridge from Carterton with two children on 22 February 1967. Both were golf enthusiasts.
Just over a year later (19 April 1968) they moved to Te Aro in Wellington on transfer.
Noel Percival Mudford grew up in Foxton and started with the Post Office there as message boy on £45 a year. His duties included delivering telegrams, helping the postman, relieving the exchange clerks, cleaning the office and polishing the brass. As a Scout he learnt Morse Code and after 15 months was transferred to the telegraph school in Auckland where he soon reached the minimum standard of 25 words a minute. Just before the War he was on £1 a week.
At age 20, Noel served all around the world in World War Two as a telegraphist in the Navy. Back home at the Post Office in Patea he had new duties with petrol and food rationing. He married in 1947 to Rosa Knowles and became Post Master in 1961 when posted to Kopu.
The staff number was 23 when he transferred to Cambridge 20 June 1968 from Kaponga. Ten years later when he retired the number was 31 due to the tremendous growth in the town.
It was not unusual to have to wait a year for a telephone line to become available at this time.
In November 1970 Cambridge joined the new automatic telegraph circuit known as Gentex whereby calls went 'town to town'. Previously all calls from Cambridge were sent to Auckland and distributed from there.
When Noel retired on 31 March 1978, after 42 years with the Post Office, he took up a position as office manager with Tasman Special Vehicles. He was presented with an electric mantle clock from the Post Office staff.
John F Erasmuson was born in Invercargill and had his first Post Office job at Night Caps. He joined the army at the end of World War Two and served in Suva and Japan. He was promoted to Post Master in 1951 at Kirwee in Canterbury.
John was married in Palmerston North to Margaret, a midwife from County Cork and they had two children. John was appointed permanent Post Master at Cambridge on 8 August 1978 but had lived in Cambridge for six years. He came from the Frankton Post Office as acting Post Master four months earlier.
Because John had joined the Post Office before 1946 he had to retire after 40 years' service. So on 30 March 1982 he left to join the clerical team at Cambridge Timber and Hardware.
Peter J M Hutchinson was from Taradale and took up his duties as the last Cambridge Post Master on 24 January 1983. He was married with three children and keen on cricket.
24 September 1986 Cambridge went onto a computerised telephone exchange and all numbers took on the prefix 27.
On 1 April 1987, following the corporatisation of all government departments, Peter became manager of Postbank.